Viva Challenge: fantasize about sexy, hot men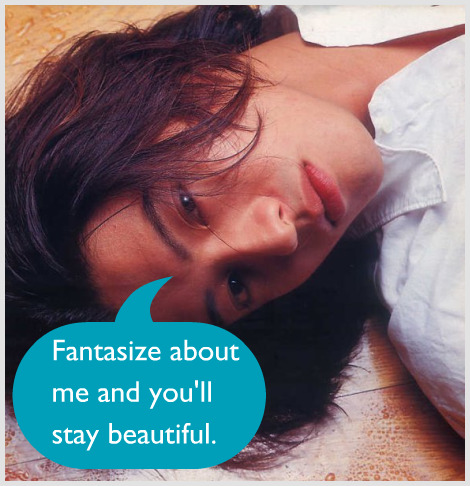 TGIF! It's been awhile since I issue a Viva Challenge and since I'm so into hormones this week, so today I challenge you to go grab a bib and fantasize about some sexy, hot men! Yes, I'm not kidding! Because according to Chizu Saeki's "Elixir of Imagination", ladies who fantasize about sexy, hot men will help release hormones that is a great natural supplement for their skin.
You must have heard the saying that women are the most beautiful when they're in love. So in the same vein, Chizu Saeki is saying that make-believe romances do the same as a bit of heart-throbbing excitement makes a great supplement for healthy skin since these fantasies excite the secretion of female hormones.
Endorphins increase natural production of collagen
I suspect this is also related to endorphins – natural hormones that your brain releases when it senses happiness. These endorphins give you a sense of happiness, satisfaction and well-being and also functions as the body's natural pain medication hormones. I've come across reads that endorphins improve our complexion and makes our eyes sparkle! In fact, endorphins are released during laughter and *ahem* during orgasm. According to research at Royal Edinburgh Hospital, it found that sex is an aerobic form of exercise that pumps higher levels of oxygen around the body, pushing newer, fresher skin cells up to the surface. And at age 71, Jane Fonda confirms this! (source).
But granted, sex is not a possibility for all since some of us are not in a relationship.  So, the next best option is to fantasize and it doesn't have to be raunchy at all!  Just pick someone who will make your heart flutter!
For me, it's Takuya Kimura, whom I've adored for a decade.  This is the guy who has been helping to release endorphins for me and  I swear my heart skips a beat every time I see him on print or on screen.   He's incredibly sexy, funny and talented!  The other is none other than 2009's sexy man JOHNNY DEPP! But I'm a bit embarrassed to admit that I only discovered Johnny Depp after watching a spoof of Captain Jack by Takuya in SMAPXSMAP and since, I've been smittened. And my endorphins definitely surged by a notch when I heard his name mentioned on the radio this morning!
So tell me, who will you fantasize?
Comments