I've got my nails minx-ed back to the retro years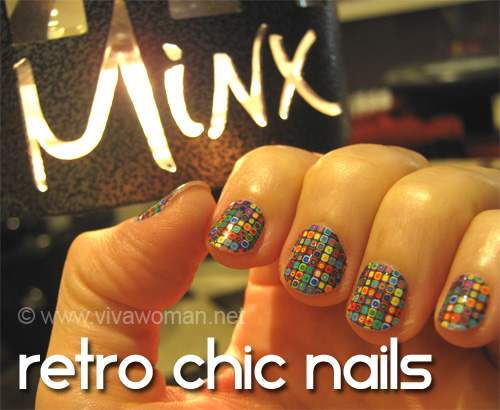 Hello Vivabellas! See my nails have just made a trip back to the retro years and I can't stop admiring them! My colleague thought I painted them, which is absolutely impossible because these designs are far too intricate. So what did I do with them? Well, I've got them minx-ed, in another words, stickered.
Okay, okay, minx-ed is a more glamorous word to use here and it's really fashionable nail art based on Californian creation – Minx. You can say it's fashion extended to the fingertips and they were the rage in US, especially among the celebrities. The fun thing about this nail art is that it is convenient and versatile as you can choose from an array of designs.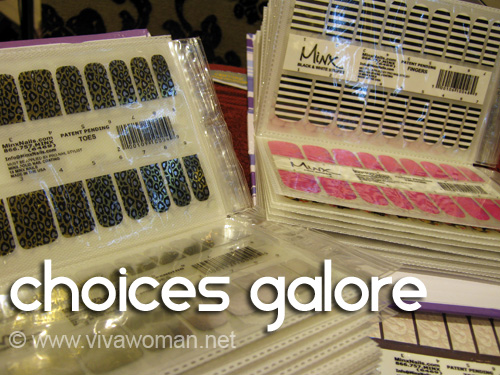 No drying time
As Minx is unlike your usual nail polish, there is absolutely no drying time. All is required is to heat the stickers, stick them on and you're done! So you basically can get your nails glammed up in shorter time. But of course, the price is also correspondingly higher. Minx is available from $80 for a set of hands onwards.
I might have made it sound too easy, as if you can do it yourself. Well, you can because such stickers are available for sale at Sephora but to fit them on nicely requires some skills.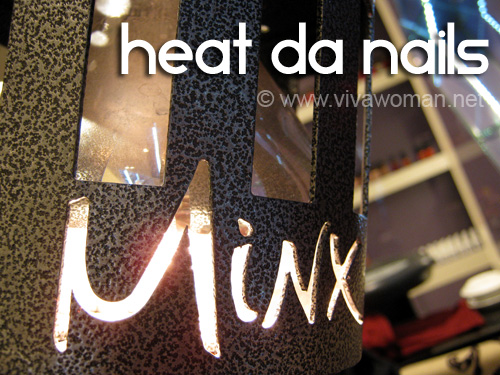 Heat and stick
Minx stickers are made of flexible film (not paper) and you need to get them heated to stick on the nails. In addition, you need to have them trimmed and filed to fit your nails. The manicurists are pretty much adept with the whole process but it still took about 45 minutes for my case. I was told it should take around 30 minutes though. The good thing is, there is no fear of getting my nails chipped since they are not nail varnish.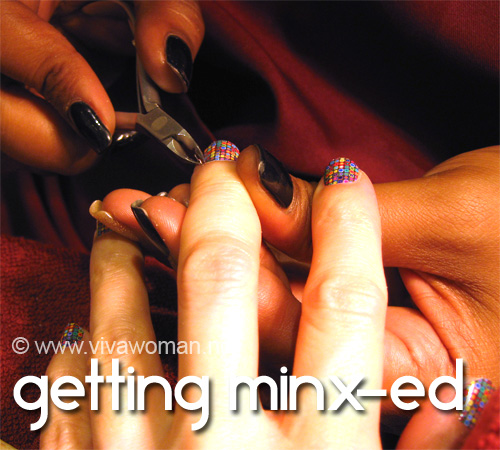 Selective designs
Actually, I don't see that many designs at Vedure NailSpa but I understand that they will also retail the new Minx Professional for Lisa Logan line consisting of eight designs, created in collaboration with world renowned New York celebrity nail stylist Lisa Logan. I saw a few sparkly metallics but I picked this design because it's pretty work safe and it can go with most outfits.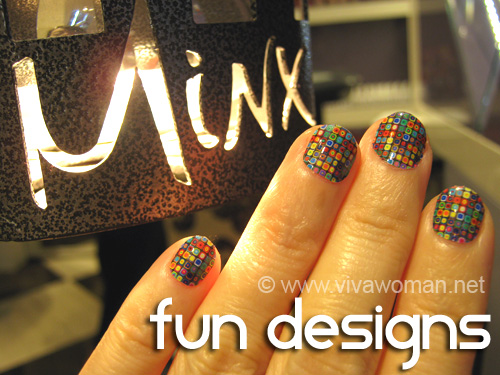 Can last up to 15 days
According to the manicurist, these minx nail stickers will last around 15 days but since it is stickered on, the edges will mostly likely peel on excessive contact with water. Anyway, I doubt I will wear it for 15 days. A week is probably good. And to make it last longer, I actually applied a topcoat over too.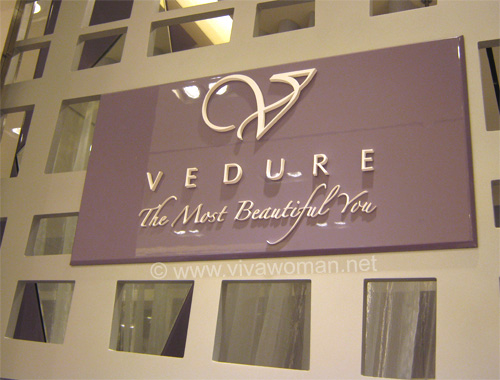 Availability
Minx nails are exclusively available at Vedure nail salon. I was invited to their new outlet – Vedure @ Marina Bay Sands, located in The Shoppes at Marina Bay Sands, B2-09 Robinsons, to try this nail service. Alternatively, you can also find them at #04-06, 501 Orchard Rd, Wheelock Place. Other than Minx nails, you can also get the usual nail services at the salon. To fix an appointment, call them at 6688 7402. You can also look at more designs available on my Viva Woman Facebook page.
Comments