Why can't organic skin care be alcohol-free?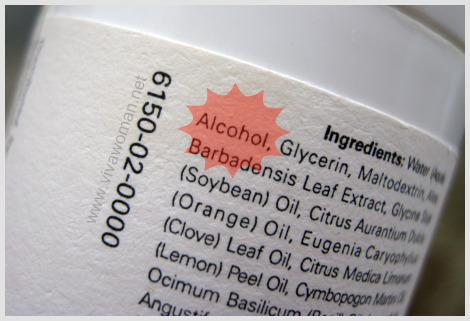 I have a major gripe!  Over the weekend, I was looking to get a milk cleanser and checked those new organic brands at Watsons.  All of them contain alcohol and some had the ingredient listed second on the list!  This really bothers me and it doesn't matter if they use plant-based alcohol or that the ingredient is certified as organic.  Why can't organic and natural skin care products be alcohol-free?
Mild alcohol may not be so mild
Alcohol is used in skin care products most often to act as a delivery vehicle or carrier and aid in better penetration.  I am aware that plant derived alcohol is unlike alcohol denat or ethyl alcohol derived from petroleum and are often said to be milder.  Examples include cetyl, stearyl and benzyl alcohol as well as phenoxyethanol.  However, based on my experience, most products containing even these mild alcohols can be drying to the skin and this is why I've increasingly become less tolerant of such ingredients.  They are not as benign as most prefer to believe and in fact, they could be irritating to those with conditions such as rosacea. 
Not acceptable as a base ingredient
I don't care if experts say that alcohol isn't drying when mixed with water or other emollients.  To me, if a skin care product is said to be organic or of natural formulation, I really expect it to be alcohol-free as far as possible.  But having said that, some of the products I use now do contain some of these alcohols but they're listed near or at the bottom.  I used to accept some of these mild alcohols in my products but I'm getting more frustrated these days when I see them listed right at the top as one of the main base ingredients or a few of them in combination in a single product.  And if the alcohol percentage is low in some of these products as claimed, then why don't the companies just remove that ingredient entirely and make it alcohol-free? 
Alcohol-free may still contain some form of alcohol
Perhaps I'm just painting myself into a corner by avoiding such common ingredients as it doesn't leave me with much choices.  But well, it's my skin and I have a responsibility to feed it better don't I?  Oh by the way, cosmetic manufacturers are permitted to claim alcohol-free on their product label as long as the product does not contain ethyl alcohol.   So don't be surprised that the product still contains other forms of alcohol that I've listed above.
Comments