Antique style silver & gold vintage jewelry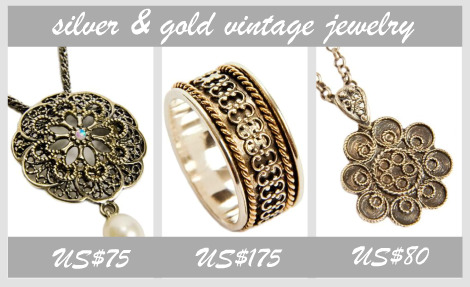 I'm very happy to be writing this as a sponsored post for Vintage Yard, a new online vintage jewelry store because I really like the look of their antique style pendants. I was also surprised to find that their prices are so affordable, with prices starting as low as US$59 for a vintage pendant. In fact, I'm quite tempted to order one of them for myself since international shipping is available too. I might come back again to check them out after the holidays but anyway, of their range of vintage pendants, I will discuss a few personal favorites.
19th century style silver pendant
One is the 19th Century Gothic Silver Pendant with Tear Drop Pearl.   It's really beautiful as the silver necklace features overlapping sets of latticework to create a scalloped pendant and comes with both white pearl and an opal. There is even starburst at the center and it definitely has the antique aesthetic of a family heirloom. Can you believe it cost only US$75? Yes it is!
Dainty and floral vintage designs
Another is the Antique Style Designer Silver Pendant, priced at US$80. It's very simple, but nonetheless a unique necklace with retro patterning and amazing detail work. The other I like very much is the Silver Vintage Necklace with a Lustrous Pearl at US$72.  They are all very well designed with interesting handcrafted details – extremely pretty and definitely my kind of jewelry. And some of these designs even coming with matching earrings that you can order as a jewelry set!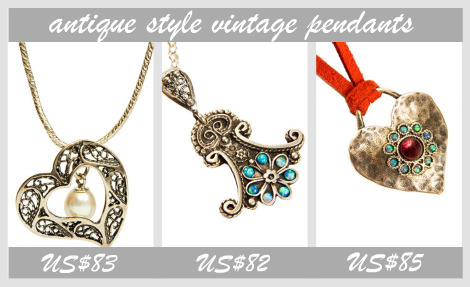 Exquisite vintage rings with amazing detail work
Vintage Yard also carries vintage rings in various designs.  Their designs are very exquisite and I like the Silver & Gold Vintage Ring with a Rope Like Trim which I featured in the picture but at US$175, it's out of my budget.  But still, this silver and gold vintage style ring is my style because it's not overly flashy, with a right balance of masculine scale and feminine touches.
Free shipping within US & 30-day money back guarantee
Besides those that I've featured here, you can also find engagement rings and brooches at the online store. And if you're someone looking for high-end jewelry pieces, Vintage Yard also offers a couple of designs in 14k gold, diamonds or semi-precious stones. I say it will be really nice if the online jewelry store offers free international shipping too but at the moment, they only offer free shipping on all US orders. In addition, the store provides a guarantee on their vintage jewelry with a no-questions 30-day money back guarantee. Good deal? I think so!
Comments