Beware of buying cheap facial packages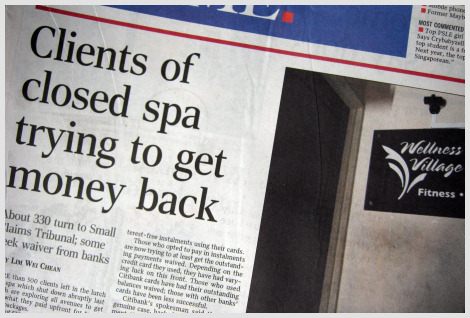 Beware of spas offering facial packages that are that extremely attractive, because you could be getting "more" than your share of the bargain. You can't tell actually, since your eyes are always closed during the treatments. And by the time you realized, you may have paid a hefty price for it.
Dubious products used during treatments
In some spas, I was told that the products they use on their clients' faces aren't the same house brands you see on their shelves. Rather, they use cheap creams and lotions imported from some third world countries. I can't say that the imports from the third world countries are definitely of poor quality, but they do sound dubious to me and the practice smacks of dishonesty. So what you see may not be actually what you get.
Skin creams and lotions diluted with water
And even if the house brand was used, I've heard of how some beauty therapists would add water to dilute the serums and creams, so that less of the actual product is used on their clients' skin.
These are stories I recently learnt from people who are working inside the industry. I wasn't given any specific names of spas and salons but my immediate link were those who advertised heavily and who offer cheap deals. So what can we do as consumers?
Go to those recommended by people you know
I think if we're talking about facials, cheap is not always good as there is usually a catch. While I'm not saying that an expensive facial definitely deliver results, I view heavily advertised cheap facials with lots of skepticisms. My suggestion is to go to those which are recommended to you by people you know, or find out what the girls are saying at the beauty forums. Remember to ask what sort of products they'll be using on your skin. I don't believe in leaving our faces to their judgement and hands completely – as consumers, we have a right to know! In fact, a good facial spa will offer to walk you through the entire treatment process and have the patience to answer your questions. And while you're in the treatment room, check the products on the tray – are they the same ones displayed on the shelves or the same ones they said will be used?
Quality of the therapists
Additionally, take a look at their therapists.  Some people are particular that the therapists shouldn't be foreigners but I have had good experience with some of them.  Instead, I think it's more important to check the length of their service at the spa.  I would be hesitant to have someone new doing treatments on my face, especially if the treatment involves operating certain high-tech equipment.  I would also watch out for frequent changes in the therapists at the salon. Go with your gut feel – if the therapist come across as inexperience, do not hesitate to ask for a change!
Stay away from those that practice hard sell
And really, stay away from those that practice hard sell tactics. I can accept a certain level of sales talk but I can't tolerate hard sell. There is no need to hard sell if you're good because customers will be happy to return based on the satisfaction level and results delivered. If customers have to be retained by way of being "forced", then something is not very right isn't it? These are likely also the type of spas or salons that engage in dubious practice to milk more cash from the customers. I wouldn't be surprised that their standard of service drop as soon as the customers sign up for the packages!
Horror stories to share?
Well, I hope none of you are affected by the closure of the Wellness Village. Some of the spa packages apparently came up to between S$550 – S$6000 and these customers are now stranded. So this might be a good excuse to decline those facial salons trying to hard sell to you in future. But do share if you have come across any horror facial or spa stories – apart from the hard selling that is! On the other hand, I've also heard horror stories of customers who steal products when they're left alone to change in the treatment rooms!
Comments