Compromise your skin care for travel sake?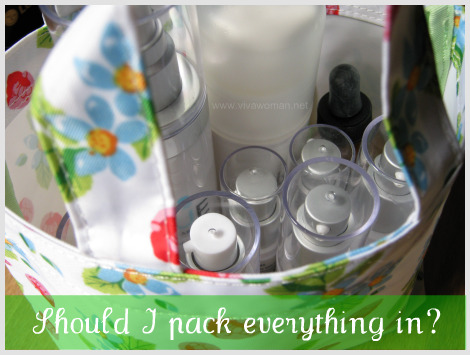 Someone asked me how to pack light for a travel, especially when it came to her skin care products and if she should just stop using her usual products for a few days since…it's just a few days.
Well, I wasn't quite able to answer her because I have the same dilemma. I never thought it would be so difficult to pack my toiletries for a so-called light travel and I'm just talking about my skin care. Should I just bring everything or should I compromise by disrupting my skin care regime (which I really resist against) and opt for convenient toiletries like sample products?
The problem is compounded by the fact that products I use are all vacuum sealed, and it's difficult to transfer them into small bottles especially because they're natural formulations. And don't ask me to purchase a travel size kit either because the products are expensive and I'm not about to spend more just for that reason. I also realized that this will be a problem if I were to take a flight because I can't carry them all onboard – which I used to before the new regulations came to effect!
So what do you say? Would you compromise your skin care regime for your travel if you were presented the same set of problems?
Comments