Organic alcohol denat in organic skin care?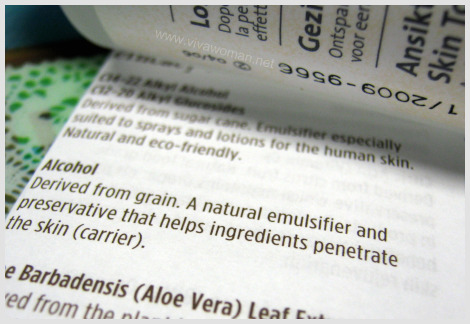 I was pretty riled up when I read ParisB's post about Kiehl's Acai Berry Organic Skincare being available in Malaysia because I spotted alcohol denat as one of the ingredients in the range.  In both its Acai Damage-Protecting Toning Mist and Acai Damage-Minimizing Cleanser, the ingredient is fourth on the list! It's listed as an ingredient from organic farming but I'm not so convinced it needs to be so high up in the ingredient list, especially in an organic range that is certified under ECOCERT and said to be of 100% natural origin.
Fatty alcohols are also dehydrating for our skin
I've already  addressed the issue of alcohol in my earlier entry why can't organic skin care be alcohol-free, where I've stated why I try to avoid alcohol in my facial skin care – especially if it's listed at or near the beginning of the ingredient list, or when there are a bunch of them in the product.  This is because with long term usage, alcohol can make our skin drier.  And according to what I just read at Dr Nitasha Buldeo's blog, alcohol also stimulates melanocytes which can result in hyper pigmentation of the skin and increased age spots.  Dr Nitasha Buldeo is the founder of Organic Apoteke and she also wrote that all alcohols, organic grain, alcohol denat as well as fatty alcohols such as cetyl, ceteryl, stearyl, benzyl and phenoxyethanol have the ability to dehydrate the skin – contrary to what we have read about them.
Demand for alcohol-free organic range
I know some of you have said that I'm biased when it comes to the topic of alcohol and that not all alcohol are bad.  Well, it now looks like my views are not totally off and if you want more expert insights on the topic including how exactly alcohol can harm our skin, read Dr Nitasha Buldeo's post here.  I agree with her that alcohol-free organic skin care is possible but most companies are making excuses for it and taking the easier way out.  I'll probably be more tolerant if the organic range is cheap but this excuse is totally not acceptable if the range is costly.
And right now, I'm really keen to find out exactly how different is organic alcohol denat from the non-organic one.
Comments