Review: DHC Camu-Camu Essence & Masks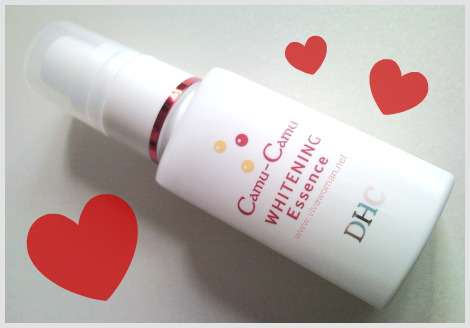 This is a guest review by Jyoan of Positively Nice. The products she tested were sent complimentary by Watsons.
******
I was elated when I learned that DHC was going to be available here – as like many girls out there, I have also heard of the incredibly famous DHC Olive Cleansing Oil. I am a fan of cleansing oils, and I don't mind another bottle to try, especially since the Olive Cleansing Oil is known to be gentle on the skin, yet very effective. However, here I'm reviewing DHC's products outside of their Olive range and they are:
1. Camu-camu Whitening Essence
2. Suncut Q10 Sheets Body
3. Coenzyme Q10 Pack Sheet
1. DHC Camu-camu Whitening Essence
Star Properties
Uses Camu-camu, a fruit which contains powerful phytochemicals with health benefits, including the amino acids serine, valine, and leucine, and more Vitamin C than any other known plant in the world.
Packaging
The Camu-Camu Whitening Essence is my favorite,  out of the three tested. And I like everything, from the paper box packaging to the bottle, to the essence itself.
I've always been in love with Japanese products in general, and I think DHC does not disappoint me when it comes to packaging.  They always take care of the smallest detail. So said, the box for this essence actually has a dotted line opening, that allows us to close the box back after opening. I know most people would throw away the box after opening anyway, so this may not be of concern to you. But I am one of those who keep the boxes, and store my products in them even after opening. Haha.
Pump Bottle
It is beautifully white. So aesthetically pleasing, that I already feel the whitening will work before using. LOL.  The pump is good, and as usual, it has a "click-lock" cap (notice how some caps are so flimsy, they loosen and close after some time? DHC's doesn't because of the click-lock), so if you leave it lying around, or you want to bring it along for travel, you wouldn't accidentally press the pump. I like the way the 30 ml bottle fits snugly into my palm too.
Essence
It is translucent white, very light, very smooth, very easy to apply, and of course, very absorbent. Feels excellent.
Effect
I am afraid, I can't really tell if the whitening effect is there or not, since I do not have pigmentation problem for now.  But one thing I am sure, is that I love this essence so much, I just feel good applying it everyday. =)
Irritation
And the best part is that, my skin is not irritated by any whitening ingredients in this. Normally, as I have experience from other products, I do react to whitening products, because they are too potent.  But like I have pointed earlier, DHC is just so mild and gentle, that I trust all its products to be suitable for most skin types.
Price
The 30ml retails at S$50.50 in Watsons.  It is the most costly of the three, but I feel for an essence, the price is pretty standard. And worth it if you have tried many other whitening product, and now wish to try something new, though I can't guarantee the effects.
Rating: 4 hearts out of 5
I like everything about this product, just that I am unable to give a fair judgment of the effect.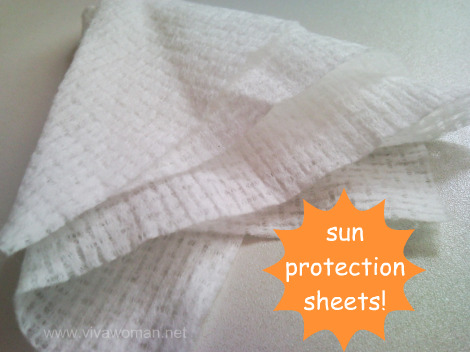 2. DHC Suncut Q10 Sheets Body
Star Properties
Perfect for protecting your skin when commuting to work or school or when shopping. Contains moisturizing ingredients, such as Coenzyme Q10. Refreshing touch sheet of 100% cotton is smooth on skin.
Packaging
I am in love with the idea of applying sunscreen from a moist tissue. I think it is really ingenious of DHC to come up with this product. Especially for those who carry skincare around, I think you will understand how troublesome and bulk it is to keep bottles and tubes of hand cream, sunblock, together with all the makeup and necessities. With DHC Suncut Q10 sheets, all had to do everyday is to peel open the tissue pack, take one out, and wipe down.
Texture
It is very light on the skin; absolutely no sticky feeling, and no film feeling. Although if you try to gently rub immediately after application, you will feel a smooth film. The sunscreen cream from the sheet is more like an essence, as it is pretty much transparent.
Smell
I have to call this a smell instead of fragrance because I really can't stand it. From the ingredients list, alcohol is the second ingredient. And yes, this Suncut Sheet smells of nail polish remover. Do not bring it near your face. If you do, try to hold your breath.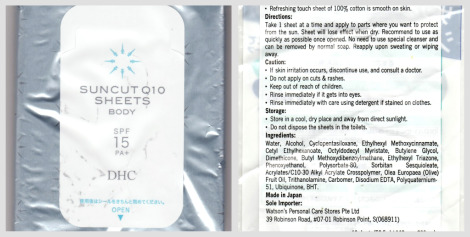 Sunscreen protection
Honestly, I have no idea if the sunscreen effect works or not. Going by standard formulas on the Internet, I think I will need more cream than whatever is on the sheet. But maybe I will have to use one sheet per body part.
I guess that's the problem with sunscreen sprays and sheets and the likes. We can't measure how much we have applied. So I basically just rub the sheet all over until it dries off. Moreover, this Suncut sheet only provides SPF 15 protection. On the basis of this, I do not think that it is a great choice to use every day in Singapore.
Upon checking out DHC's other products, I thought it would be quite good if DHC could come up with higher SPF broad spectrum sunscreens. The reason being, I really believe in the mildness of all DHC's products, so I feel they will have a good formula for people who are extremely sensitive to sunscreen.
Irritation
Despite the heavy alcohol content, it did not irritate my skin, not even my face. Haha…I actually put it on my face the first time, as I didn't realise this is for body. It felt good, apart from the smell.
Rating: 2.5 hearts out of 5
Great idea to use sheets, as they are very mild. But I feel it doesn't provide me with enough protection, and smells strongly of alcohol. For 10 sheets per pack, the price is relatively reasonable at S$7.50.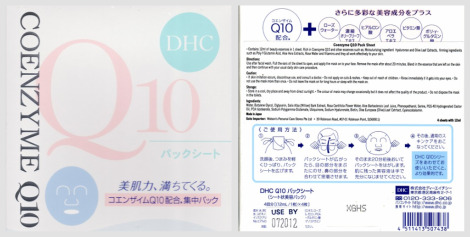 3. DHC Coenzyme Q10 Pack Sheet
Star Properties
Contains 12ml of beauty essences in 1 sheet, rich in Coenzyme Q10, contains Hyaluronic acid and Olive Leaf Extracts for moisturizing, Poly Y Glutamin Acid, Aloe Vera Extracts, Rose Water, and Vitamins for firming.
Packaging
It comes in a standard flat, square, paper box, and the mask sheets are individually packed in tinfoil aluminium as usual. But something good about DHC's packaging is that it comes in a pack of 4 sheets, as compared to something like Watson's and other value-pack masks which comes in 5 to 10 sheets, making the box very bulky (though much kinder to the wallet).
I think it's really easy to throw the slim box of DHC mask sheets into your luggage when you are going overseas, instead of removing some from the huge 10-piece box (like My Beauty Diary) and looking for a pretty slim pouch to hold your masks. The idea is something like the skincare equivalent of MacD drive-through takeaway lunches.
Personal tip
I like to bring mask sheets with me when I go overseas, because they are the most fuss-free way to take extra care of my skin when my skin is ultra tired, and unfamiliar with the environment. Imagine, just pop a essence-filled mask onto your face after a quick wash-up, and fall asleep till the next morning…so enjoyable.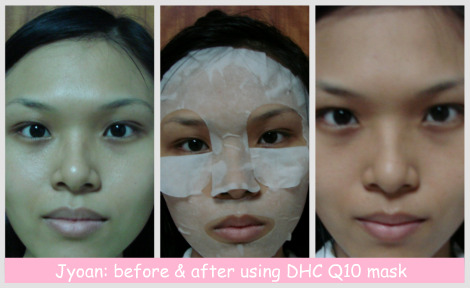 Mask Sheet
It's very big, but unfortunately, the cut doesn't really fits my face as well as some other masks does. I find it hard to smooth out the edges. Material itself is really good though. =)
Essence
Unfortunately, I was very disappointed with the amount of essence. I read the 12ml printed on the packaging and I really expected it to be soaked in essence. Hence the shock when found the mask so dry, and not one drop of essence left, in the packet after I took out the mask. Not even a drop sticking to the walls of the tinfoil. Comparatively, I have used a $10/piece mask that had so much essence I could rub it on legs and hands. And also, $1.30/piece masks that still have enough essence to apply as moisturizer on my face after the masking.
Effect
My face did feel softer and more moisturised. But honestly, I think there are better masks in the market.
Irritation
No, it feels very mild, and I do not think that any irritation would occur. =)
Rating: 1 heart out of 5
The DHC Q10 Masks is available at S$29.50 at Watsons and comes with 4 sheets and a 12ml essence.  Apart from the convenient 4 sheets slim packaging, I feel that this mask is not for me especially when I weigh the effects against the price.
Comments