DIY Beauty: how I customize my own facial mask sheets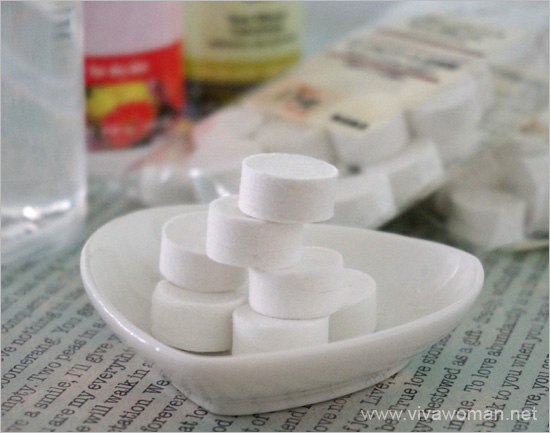 About three months ago, I began indulging myself in a weekly DIY beauty treatment routine that involves the resurrection of the Muji Compressed Facial Mask Sheets. Although there are many commercially available mask sheets out in the market, I prefer to customize my own facial mask sheets to add just what my skin needs. So using a compressed facial mask sheet gives me flexibility and it also allows me to use up some products that have been lying around unloved or were fast approaching expiry date.
If you've read about the Chizu Saeki lotion mask method, this won't be too alien to you. However, instead of using cotton pads that she recommended, I prefer the compressed facial mask sheets because one sheet can cover the entire face and make the masking process less messy.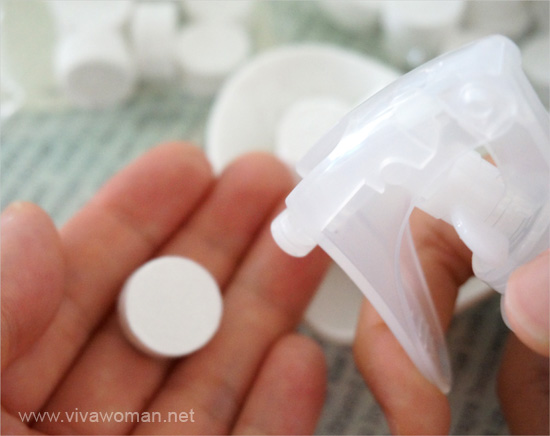 Compressed facial mask sheets
In terms of ingredients, you'll need to get some compressed facial mask sheets made of 100 percent pulp. The ones you see here are from Muji and a pack of 20 cost S$5.90 (a smaller pack at S$2.90 is available too if I'm not mistaken). They look like big pills and someone on Instagram actually thought they were some sweets when I posted a picture of them! LOL. What's ingenious about these compressed masks is that once soaked in liquid, they will swell and you can unpack to cover your entire face.
Muji recommends that you use a lotion on these masks and that's why it's also known as a lotion mask sheet. Besides Muji, you can get these from Sasa and Daiso too.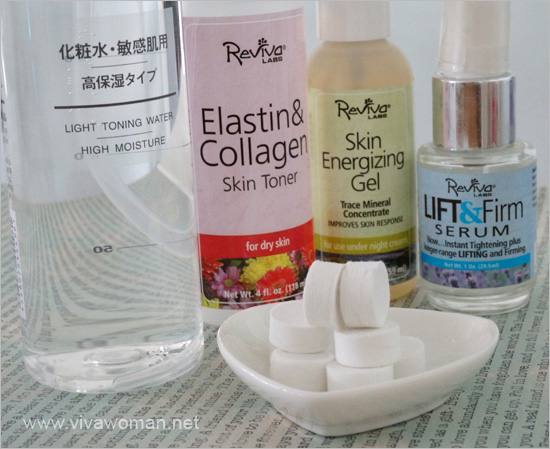 Soak in toner and serum
You can choose to soak the compressed face mask sheets in mineral or distilled water if you like before pouring essence or serum over but I prefer to spray toning water on it instead. In this case, it's the Muji Toning Water (High Moisture). Sometimes, I'll use the Reviva Labs Reviva Labs Elastin & Collagen Skin Toner or any other toner I get my hands on.
After the compressed facial mask sheet is drenched with toner, I'll squirt the serum of my choice directly onto the mask sheet. I say "squirt directly" here because the product was nearing expiry and I wanted to use it up quickly. If it's a brand new bottle of product, I'll squirt the serum into a container together with the toner, mix both up before soaking the mask sheet in the mixture–like what you see in the tutorial below. This way, I don't use as much serum as when I squirt directly.


Mixture of serums
I sometimes add more than one type of serum, for example using a vitamin C serum with a firming serum for whitening and firming. So the choice is really yours.
Thereafter, I'll put on the mask on my face, leaving it for 10 to 15 minutes. At times, I'll include an additional routine by using Le Mieux Skin Perfecter to accelerate the absorption of the serum.
Never leave mask on for too long
What follows immediately after such a masking session is that my skin looks more hydrated and plumb. Somehow, those products that did not work wonders when used on their own seem to do some much better when used on the facial mask sheet. Perhaps I am able to get better benefits because the mask sheet allows the product to have direct contact with the skin for a longer period of time?
Oh, I should state that I never allow the mask sheet to be left longer than it should and they should not be left to dry on our skin overnight. I did read in some books that leaving the sheet longer than it should on our skin may cause dehydration instead.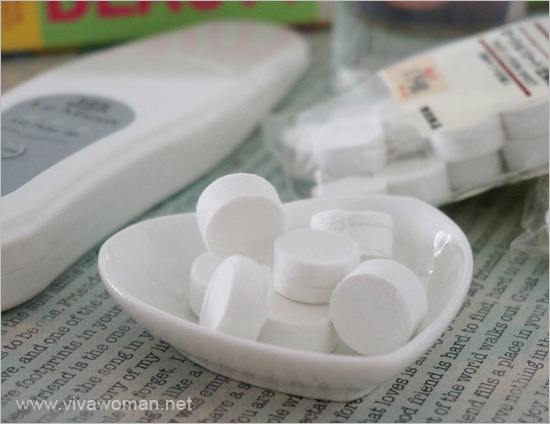 Using kitchen ingredients
Obviously, some people will find this whole DIY process rather troublesome since face mask sheets are readily available at affordable prices. But if you like to experiment with DIY skin care, this might appeal to you. Also, you may also find products performing better than expected using a sheet mask instead of direct application. If you don't like the idea of using face toner and serums, you can also use kitchen ingredients like green tea, chamomile tea, white tea with aloe vera gel and even a few drops of olive oil.
Anyone into customized facial mask sheets too? What do you add on yours?
Comments