Face off: facials or medi-treatments?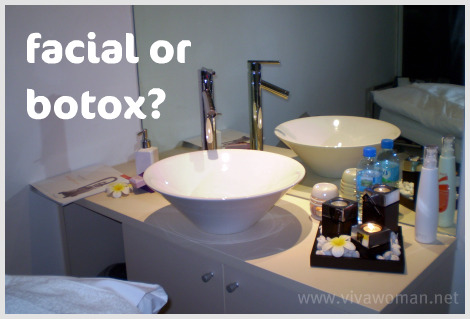 I was quite amused after reading this article Face-Off Brewing Over the Anti-Aging Claims of Spa Facials in Jakarta Globe which discusses the views of dermatologists about facials and the views of aestheticians towards beauty treatments offered by doctors.  Interesting topics included: treatments offered by doctors are harsh for the skin and facials are a waste of money.
Actually, I used to agree with that view concerning facials until recently. In fact, I even thought I could rely on IPL to get radiant and glowing skin. However, I no longer subscribe to that idea and now consider seeing a dermatologist for my skin issue as a last resort. I would say that while my skin did look quite nice during the times I had IPL done (firmer and smaller pores), but I also found that my skin became a lot drier and somewhat sensitive afterwards.  So it's not enough to rely on such procedures and I would have to care for my skin in other ways.  In addition, like one of the dermatologists said, going for such treatments require one to have deep pockets in order to sustain the efforts and that's why, he actually recommended me to use products instead.
And to most people, botox are probably a better choice to get rid of lines and wrinkles quickly versus going for a facial. It might be true, but I consider botox treatments invasive to some extent and have no guts to attempt them.
Your take?
So what's your take on this topic? Do you consider facials a waste of money? Would you rather go to the dermatologist for instant results? And if a facial promises you results, how much time are you willing to wait till you see some satisfactory results?
My take
I no longer consider facials a waste of money.  However, not all facials are created equal and you should opt for those that are result oriented, rather than those that are just pampering. By result oriented, I do not mean using medical procedures or treatments but the ability to solve some of your skin concerns. And I would be willing to give my facials 3 – 6 months to see positive results.  By positive results, I mean getting rid of the wrinkles and solving my pigmentation problem.  My 10 IPL sessions and even two laser treatments did not help to rid my pigmentation marks and in fact, I only successfully got rid of one major pigmentation mark with laser.  The others remained the same and I was told I might have to go for several sessions to rid them entirely.  Of course I kept my money in my pocket!
Comments