The itsy bitsy pains from beauty treatments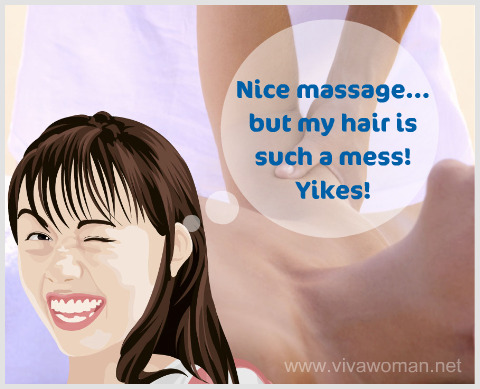 While I do enjoy going for my beauty and wellness treatments, but there are certain things about the aftermath of these experiences that irk me. And it doesn't matter where I go because I can't run away from these little pains. I don't know how others can arrange a date or meeting after receiving such services because for me, I just want to go home immediately.
At the hair salon
I don't like the towels they use on my hair. I know they're washed but I'm not so sure if they're washed clean. I particularly hate it when the towels touch the sides of my face and I often wonder if I'll get a new pimple because of the towels.
I also have an issue with the combs and brushes they use on my hair. All the time my hairstylist uses it on my hair and it comes into contact on my face, I'll cringe in my chair and almost want to scream "NOooo".
Maybe the worst for me is the little bits of hair left on my face, neck and clothes after my haircut. They can never be brushed or swept off completely and I always end up walking around with these bits on my skin, visible to the public eye.
At the facial salon
After a two-hour facial session, my face would be glowing with radiance but my hair on the other hand, would be flattened and no amount of brushing would get them back to shape.
In addition, I can't do with some amount of makeup after my facial especially since my salon is not just across the street. And this means I'll be subjecting my face to another round of washing after I get back home.
At the spa
A massage is great and I love all the kneading and rubbing and pressing but I hate it when I have a full hair of oil after the session. While there's usually shower facility, it's not a good idea to bathe immediately after a massage. So I have to try not to be so self conscious as I quickly get out of the spa to my next destination and that's usually home.
I wonder if I'm the odd one feeling this way, considering these pains I've listed are really more due to my psychological discomfort. And although they do irk me, I've come to accept these inconveniences as part of the package. Do they bother you at all?
© www.vivawoman.net copyright notice ☺
______________________________________________________________
Comments