Health & beauty benefits of eating cherries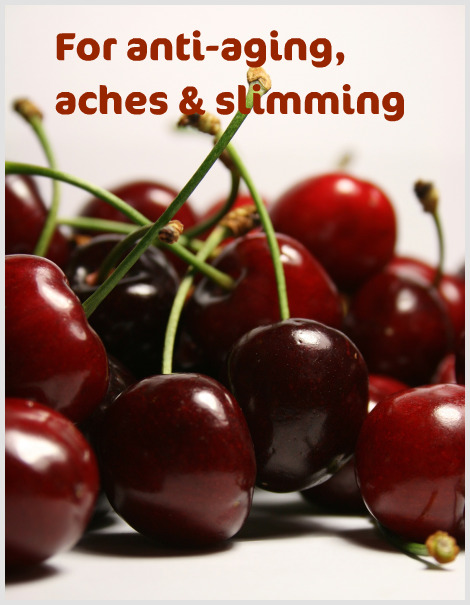 I was recently introduced to fresh cherries by my mom who experienced a relief to an acute pain in her shoulder after eating the fruit. Cherries are extremely expensive here but I decided to give it a try to see if they can help with a pain at the back of my neck and I was surprised to find that it works!
Medicinal properties
Apparently, cherries are anti-inflammatory and are good for aches, sore muscles, gout and even arthritis. Anthocyanins, a compound found in cherries, is thought to be the cause behind the relief of gout and other types of joint pain. Tart cherries are good for this purpose and I also read that medical research validates that sour cherries are superior to sweet varieties in their medicinal properties.
Rich in antioxidants
Additionally, cherries are a great beauty food because they have among the highest levels of antioxidants of all fruits. The melatonin found in cherries help to regulate biorhythms to improve your sleep pattern and delay the natural aging process. Plus, the two flavonoids – isoqueritin and queritrin – are powerful antioxidants that help in delaying the aging process. Good for those suffering from insomnia!
Energy booster
Cherries are also low in fat and cholesterol, but high in water content, fibre and sodium and are an excellent choice to help in the weight loss process. Regular consumption helps to boost energy levels and modify metabolism for effective weight loss.
So for those with access to cheap cherries, load them up! I can only wish for cheaper cherries here!
Comments