Boost Your Skin's Hydration With Estelle & Thild Biohydrate Thirst Relief Vitamin Serum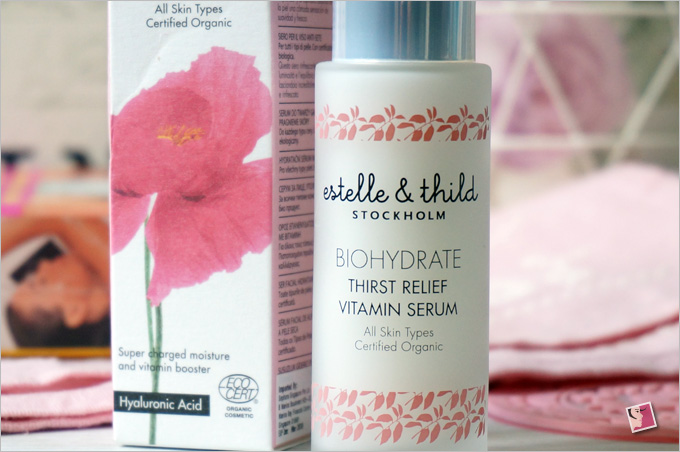 Thirsty skin? Need more hydration? How about using a serum with a surge of moisture-rich hyaluronic acid, a blend of organic vitamins and licorice root that also enhances the skin's radiance?
Introducing the lightweight but performance heavy Estelle & Thild Biohydrate Thirst Relief Vitamin Serum.
This multifunction product promises to instantly hydrate and refresh your complexion. At the same time restore luster, increase skin collagen and soften skin texture.
Now the 63-dollar question is: does it deliver?
About Estelle & Thild
Before answering that question, let me say this unreservedly: I love Estelle & Thild. All the products I'd tried from the brand have either met or exceeded my expectations. That's why I'll always check out the brand whenever I head to Sephora. Seeing them just makes my hormones bubble with joy. #k8SjZc9Dxk0#k8SjZc9Dxk
My only gripe is that the brand is quite pricey considering they are only Ecocert-certified. Majority of their ingredients are of natural origin but are not from organic farming.
But this Swedish skincare brand differentiates themselves with formulations containing natural ingredients of highest quality through the help of dermatologists and toxicologists.
Interestingly though, the company says it does not mix too many plant extracts to lower the risk of irritability for those with sensitive skin. This is definitely unlike other green brands that boast of using mostly botanical extracts.
All Estelle & Thild's products are free from parabens, mineral oils, sodium lauryl/laureth sulfate, propylene glycol, silicone, urea, DEA, TEA, synthetic emulsifiers, PEG and dyes.
Their products are also not tested on animals and are environmentally certified Nordic productions that use recyclable packaging.
Performance and results
So how did I find Estelle & Thild Biohydrate Thirst Relief Vitamin Serum? Did it perform and deliver for my skin given all its glowing promises?
Estelle & Thild Biohydrate Thirst Relief Vitamin Serum cost me S$63 but it didn't disappoint. I can feel my skin instantly hydrated, plump and soft. The best part is that this serum is so lightweight, non-sticky and plays nice with my other skin care products.
I use this serum mostly in the day. It spreads well and sinks into my skin quickly. I also like that it has a light fruity scent–reminds me of Estelle & Thild Repairing Oil Complex which I'd tried last year.
Although I haven't noticed any visible radiance after using this serum but my skin definitely feels very comfortable throughout the day without any dry spots.
Ingredient list
Here's Estelle & Thild Biohydrate Thirst Relief Vitamin Serum's full ingredient list:
Aqua, aloe barbadensis leaf juice*, glycerin, butyrospermum parkii butter*, simmondsia chinensis seed oil*, biosaccharide gum-1, citrus paradisi fruit extract*, gluconolactone, sodium hyaluronate, sodium levulinate, glycyrrhiza glabra root extract*, glyceryl caprylate, cetearyl olivate, sclerotium gum, xanthan gum, sorbitan olivate, sodium anisate, parfum, limonene, sodium gluconate, citric acid, sodium benzoate, potassium sorbate.
* Ingredient from Organic Farming 99,900% of the total ingredients are from natural origin. 25,149% of the total ingredients are from Organic Farming. Natural and Organic Cosmetic certified by ECOCERT Greenlife according to ECOCERT Standard.
Overall summary
I'm happy to report that Estelle & Thild Biohydrate Thirst Relief Vitamin Serum delivers. If you're wondering why you need to a product like Estelle & Thild Biohydrate Thirst Relief Vitamin Serum to hydrate your skin, here are six reasons:
1. Your skin will look more plump and supple
2. Your skin will look less dull and more healthy
3. Your skin becomes less oily
4. Your acne is less aggravated
5. Your skin is less itchy and irritated
6. Your foundation can adhere better
Would I buy this product again?
Most definitely! Not only will I repurchase this serum, I'm now incline to try other products in their Biohydrate series. Even though Estelle & Thild Biohydrate Thirst Relief Vitamin Serum is not cheap at S$63 (from Sephora), the 30ml should last me about three months since one pump is sufficient for my entire face.
So if you're in the market for a hydrating serum, I'd recommend this product. It'll do wonders to quench your thirsty skin!
Product highlighted was purchased and this review is in line with my disclosure policy.
Estelle And Thild Biohydrate Thirst Relief Vitamin Serum
Comments