VDay love: 20% + 10% off handmade jewelry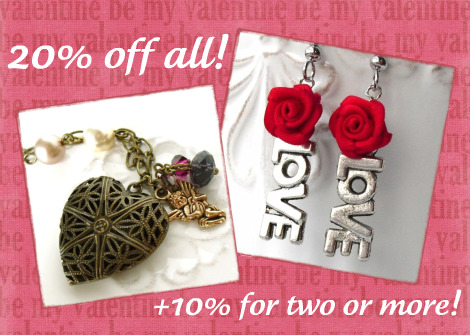 Remember Raintree Atelier? The Etsy shop recently participated in one of my VivaBella Bonanza Giveaways in December and those who remember visiting it would recall her collection of kitschy style, whimsical handmade jewelry. Raintree Atelier is based in US but the owner, Gwen, is actually a Singaporean! Hence, I'm very pleased to run this joint Valentine's Day promotion with her as Gwen has kindly offered 20% off all the items in her shop, including sales items! Yay!  Additionally, she is offering another 10% off discounted price with 2 or more items purchased! Woot!  And yes, the promotion is applicable to everyone around the world.  Plus if you're based in US, you'll get free shipping!  Full details of this promo are at the end of this post.
Affordable prices from US$10.90 to $29.90
The prices of her handmade jewelry ranging from earrings, charm bracelets and necklaces using a combination of semi precious stones, beads, 14K gold, swarovski crystals and pearls are extremely affordable – with a starting price of US$10.90 and nothing exceeding US$30. So if you want to get some new jewelry for this Valentine's Day, take advantage of this special promo only for Viva Woman readers.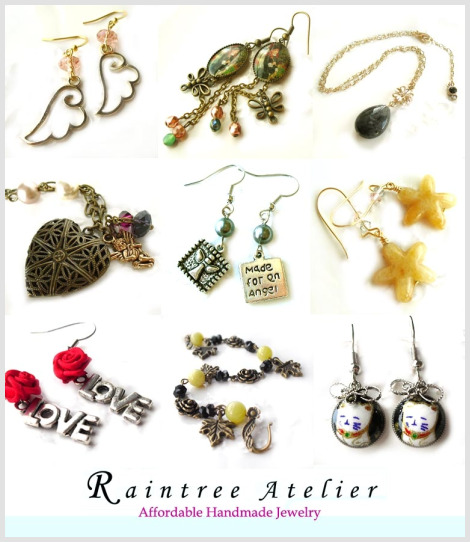 Summary of promotional details
– 20% off all purchases including sale items
– additional 10% off discounted price with 2 or more items purchased
– Promotion valid from 1-16 Feb 2010
– To enjoy discounts, buyers must enter promo code VIVAWOMAN upon checkout in NoteTo Seller box
– Either wait for revised invoice from Paypal or pay first and wait for refund via Paypal.
Have fun shopping at Raintree Atelier!
Comments