I like my jewelry vintage inspired and antiquey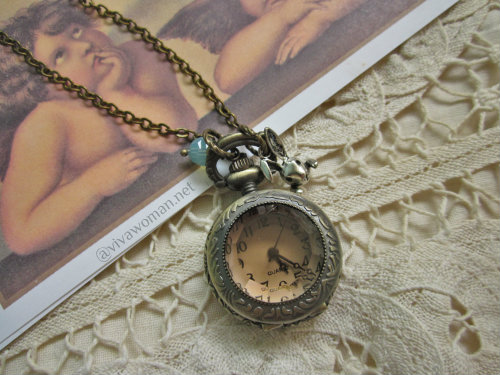 It's no secret that I love handmade jewelry but within the category, my heart goes to those that are vintage inspired, particularly those that look rather aged. There's just something enchanting about them – maybe it's because of the antique feel, perhaps it's due to the nostalgic inspiration or it could be just the dreamy appeal – I'm not exactly sure. But one thing I know is that they make great conversation pieces because they usually look quite unique.
I do have a few vintage inspired pieces in my collection but I count these as most "antiquey". The vintage watch piece is the latest to my collection. I ordered it awhile back but forgot all about it till I was clearing my stash yesterday. I've always fancied these watch necklaces and I really like this a lot, considering the watch works too!
I haven't worn this Bible verse necklace yet but I ordered it because I like the verse from 1 John 4:18 – Perfect love casts out fears – a verse that speaks to my heart. But I'd wish the pendant was made of metal but it isn't.
This necklace is one that I wear quite frequently. Can you guess what I like about this design? The leaf? The bell flowers? Nah. It's the toggle hook clasp! LOL. But those of you who have worn such necklaces or bracelets know that these are the easiest to put on and in double quick time too!
I was given this pair of earrings but I hardly wore them because they don't go too wear with what I wear most of the time. However, I think it's going to see more daylight now since I'm going to be putting on the watch necklace a lot more often.
And since we're on the topic of vintage inspired, I thought I'll share with you something that I handmade recently as a gift. The recipient for this gift likes vintage stuff and it was a tough call because I had run out of ideas on what to get. I scoured the web and found these antique looking spoon and fork but the idea of giving them straight out of the box seems so strange. So I decided to make an art piece out of it with a picture frame from Ikea and with some craft paper and cut out. I'm not sure if it makes the cut but well, if it's supposed to be an art piece, then anything goes right? Heh.
Comments