Viva Challenge: keep your eyes looking good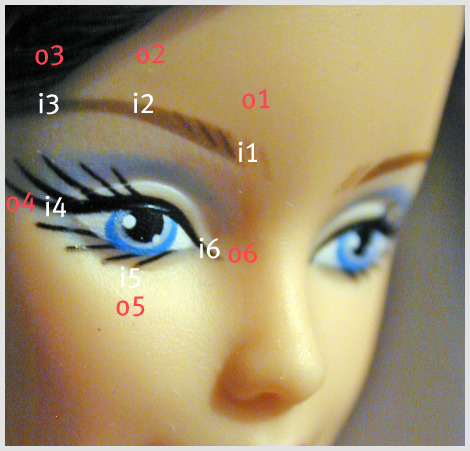 If you have liked last week's challenge about unblocking your facial lymph nodes, you're likely going to like this week's challenge to massage the major acupressure points around your eyes to maintain them well. Again, I picked this up during my facial sessions at True Beauty and have been doing them quite consistently because it is very easy and takes very little of my time.
Focus on the bony rims around the eyes
While I call it a massage, it's actually just pressing the major acupressure points around the eyes. There are twelve acupressure points to press; six on the inside and six on the outside. The picture above shows the position, where i depicts the positions on the bony rim of your eye socket, while o depicts the positions outside the bony rim.  You can also refer to the diagram on acupressure points for better vision to get an idea but note that I did not include the position – Qiuhou.
How to do self acupressure around your eyes
Using your middle finger, first press on the inside points I've illustrated, starting from i1 to i6 and repeat three times. After that, proceed to the outside points, starting from o1 to o6 and repeat three times. Do these on both eyes at the same time. You need to exert some pressure on those points and you can do it anytime you like, once or twice a day.
How this self acupressure help your eyes
Well, I was told that it can help to maintain our eyes, preventing it from drooping and also, keep some of the wrinkling and puffiness at bay.   However, do note that to prevent the lines from showing up or to eliminate some of them, you'll also need a good eye gel or cream.
While some others have shared their eye massages, but I like this technique because you don't have to bother about lubricating your eye area and neither do you have to worry about dragging the skin around the delicate region unknowingly. So join me?
© www.vivawoman.net copyright notice ☺
______________________________________________________________
Comments