Younger Looking Eyes With Hadara Sparkling Eye Therapy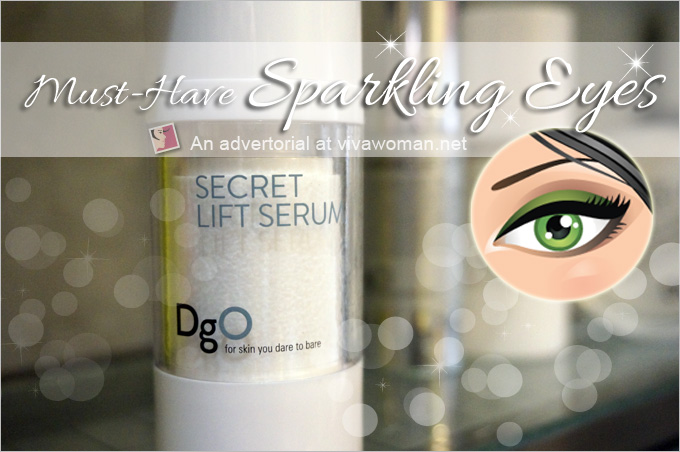 I often blame my eyes for giving away my age. Yet, I don't take the best care of them. I don't massage my eye area as often as I should and the worst thing is, I've been spending far too much time in front of my computer and haven't been giving them enough rest. The only thing that I do consistently is to apply eye serum and eye cream daily but this is definitely not adequate. My eye bags are getting too prominent and my dark circles are quite pronounced. I definitely need to give my eyes more soothing love!
But why do we need to give the skin around our eyes more soothing care compared to other areas on our face? Well, here are some reasons:
1. Thinner skin
The skin around our eyes is said to be seven to ten times thinner and more delicate than the skin on the rest of our face. As we age, the skin gets even thinner due to a loss of collagen and elastin. This is why we should treat the area delicately and not rub our eyes as that action can contribute to wrinkles.
2. Dark circles
Because the skin under you eye becomes thinner over time, dark circles become more apparent due to the dense capillary network beneath and when the blood that passes through the large veins close to the surface of the skin produce a bluish tint. So if you've inherited a thinner and more transparent skin, chances are, your dark circles can be very apparent.
3.Lines formation
The skin around our eye area is highly prone to dryness because it has few sebaceous glands unlike skin around other parts of our face. So on a whole, it has a poor lipid barrier, and more prone to lines forming.
4. Increased puffiness
Puffiness around your eyes could also be due to hormone fluctuations, causing the body to retain more fluid than usual. Hence, for some women, your eyes may look more puffy just before and during your menstrual period. The same is true if you're pregnant. In this case, the puffiness will go away as soon as your hormones normalize. Also, if you have health issues such as sinus, chances are, you'll have puffiness around your eyes. Another possible issue could be edema, which is swelling caused by a collection of fluid in the small spaces that surround the body's tissues and organs.
5. Expression lines
The skin around the eyes is affected by the number of times you blink, and your facial expressions.  Often called expression lines, these unfortunately calls attention to your eye area for the wrong reason.
6. Swelling
Your eyes can swell up if you eat too much salty food which result in fluid retention. So if you have a habit of feasting on processed food high in sodium especially prior to going to bed, you may find yourself waking up to a set of puffy eyes due to swelling of your eye tissues.
7. Straining
If you spend long hours in front of the PC or a lot of time playing games on your mobile gadgets, your eyes are probably strained. In that case, you need to rest them to keep them from further aggravation.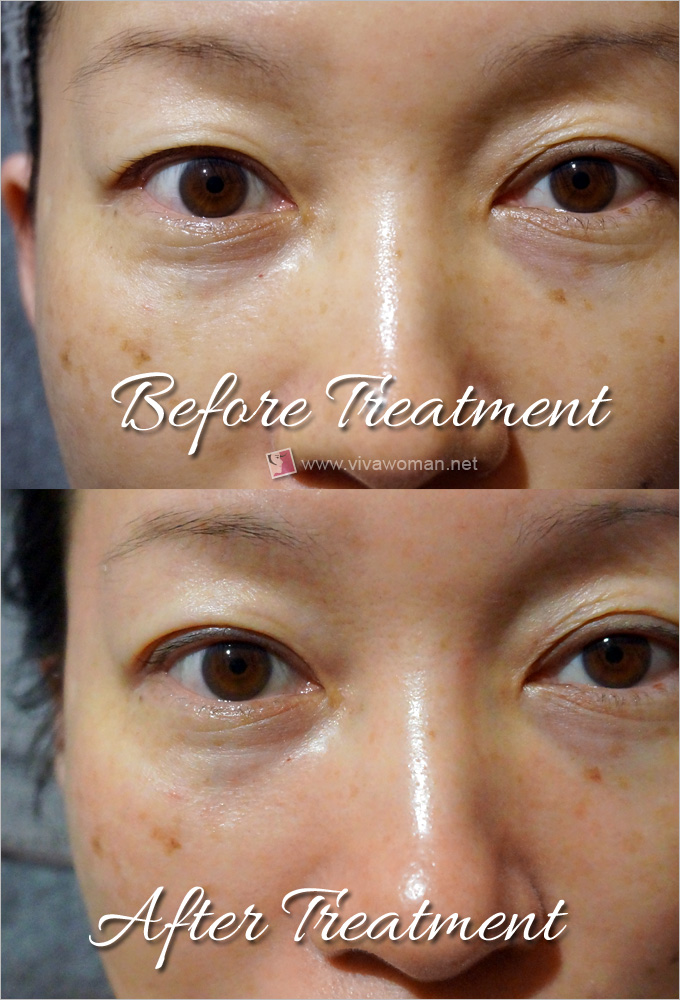 Hadara 30-minute Sparkling Eye Treatment
So given these information about our eye area, we should really be taking better care of our eye area. So when I was told that the 30-minute Hadara Sparkling Eye Therapy is excellent for such a purpose and it is a popular treatment favored by many, I agreed to promote the service.
This is a relaxing eye treatment designed to hydrate the eye area and is particularly suitable for those who have tired eyes or those who use mobile, laptops and PC for extended hours. I fit perfectly into that profile and I believe many of you do too. Although I wasn't sure how effective the treatment would be, I was excited to try it since my eye area can do with more help. Here are the promised benefits:
Stimulates blood flow to the skin, muscles and capillaries in the areas around the eyes, helping to drain excess fluids, reduce sagging areas, tone the muscles and nourish new cell growth.
De-stresses the muscles that cause crow's feet.
Activates the pressure points around the eye sockets to help release tension in the visual system and increase the flow of life energy to the eyes.
Enhances penetration of products into the skin for maximal effectiveness.
Product used
Prior to the treatment, I'd thought some special equipment might be used. But as it turned out, it was a therapeutic eye massage with an accompanying mask. Amy, the therapist who performed the treatment skilfully massaged my eye area by way of acupressure. Her handiwork was superb! In addition to the massage, Dermagold Secret Lift Serum, a serum packed with high concentrations of anti-age and anti-wrinkle premium peptides to retain skin elasticity, firmness and youthfulness, was also applied as part of the treatment. For those interested to know, it is paraben free and contains Hyaluronic acid, Argireline, Matrixyl 3000, Snap-8, Vitamin C Ester, Vitamin E, Leucidal.
As I was expecting to see instant results after the treatment, I made sure I took before-and-after pictures. Sorry that the pictures are SO large but it's definitely clearer this way. HEH. As you can see from the picture, there is a noticeable difference to my eye area after the treatment. The lines are minimized, my dark circles are lightened and my eyes looked lifted. Even my skin tone looks better although this wasn't a full facial (Amy only cleansed away my makeup). I'll say the treatment delivered the promises! I'm not sure if my eyes had more sparkles but they definitely felt a lot more soothing.
Price and special promotion
The ala carte price of the Hadara Sparkling Eye Treatment is S$88–you get a special 25% off if you're trying the first time. Packages are also available:
– sign up for 6 sessions and get 1 additional session free or
– sign up for 10 sessions and get 3 additional sessions free
I highly recommend the treatment if you're keen to improve your eye area. I am quite sure you will love it as much as I did. Of course you can also consider their facial which I reviewed last year here. By the way, all their facials uses Dermagold, which are quality products suitable for our local weather.
Hadara Aesthetics is located at 23 Lorong Telok #01-01 Singapore 049035. Check them out on their website. To make your appointment, contact them at 6969 3022.

Comments