Viva Challenge: unblock facial lymph nodes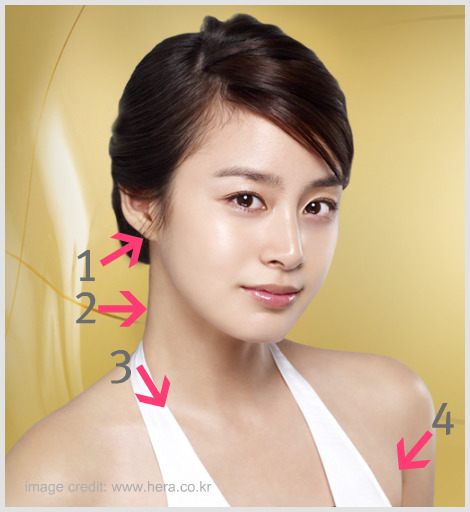 Those who have read Chizu Saeki's The Japanese Skincare Revolution would have come across her information regarding how our facial contour will lose its definition when the lymph flow is lazy around our ears and neck. Hence, it is recommended that we stimulate those lymph nodes to drain fluid build-up.
Drainage system to absorb and remove toxins
For those who don't know, the lymph system is a complex network comprising lymph nodes, lymph ducts and lymph vessels and one of its main functions is to act as a drainage system to absorb and remove waste and toxins from our body. However, our lifestyles, coupled with diet and stress may cause the waste to accumulate and our facial lymph system to become sluggish. Hence, drainage of toxins becomes slower and waste build up, causing our face to become puffy and our skin to suffer. This is why most facial massages focus on unblocking the lymph nodes to activate the lymph, purge the toxins, clean the tissues and stimulate circulation.
Most of the lymph nodes are in the neck
There are lots of lymph nodes in our facial region and in fact, I read that half of the lymph nodes in our body are in our neck. These are the four key lymph nodes highlighted in The Japanese Skincare Revolution:
1. Behind the ears – parotid lymph nodes
2. The sides of the neck – cervical lymph nodes
3. Above the collarbones – supraclaicular lymphy nodes
4. Armpits – axillary lymph nodes
Regular massages for healthy lymph nodes
It is said that regular lymphatic drainage massages can help us maintain a smooth flow of fluid, healthy lymph nodes, and of course, better skin. However, I've found the massages recommended by Chizu Saeki to be somewhat difficult and troublesome, since we need some amount of lubrication. So instead of massaging, I'm going to share with you an easier method using pinching and tapping.
Step 1
Use your thumb and press the lymph nodes in the hollows behind your ears seven times.
Step 2
Use your index finger and thumb, pinch the sides of your neck in an upward outward direction seven times.
Step 3
Use your four fingers and tap the hollows of your collarbones seven times.
Step 4
Use your four fingers and tap your armpit area seven times.
I picked these pinching and tapping techniques from my facial sessions and have been doing it on and off, whenever I remember them. If you like to keep your facial lymph nodes healthy and are comfortable with the idea, then join me in doing these for a fresher looking complexion!
© www.vivawoman.net copyright notice ☺
______________________________________________________________
Comments