How your blood type can keep you young and healthy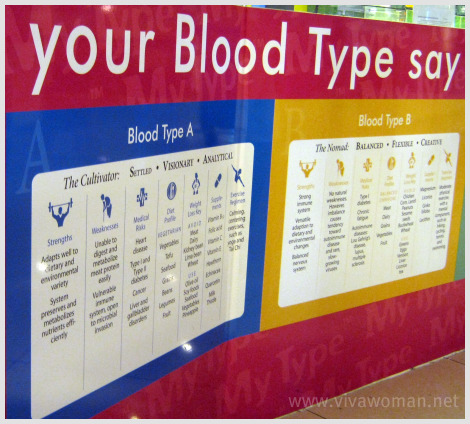 I spotted this interesting information about our blood type that highlights the health and nutrition information that corresponds to our exact biological profile. These look like roadmaps from Dr. Peter D'Adamo's Eat Right For Your Type, which state that our blood type is the most important factor in determining a healthy diet and how a blood type diet can help with weight loss and even slow down our aging process. We've often been told to adopt a balanced diet but if Dr D'Adamo is right, then the balanced diet for each of us actually differs according to our blood type.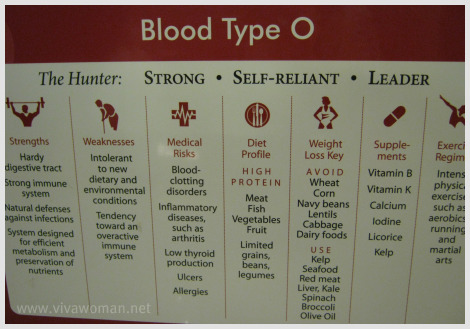 Type O
People with type O blood fare best on intense physical exercise and animal proteins and less well on dairy products and grains. The leading reason for weight gain among Type O's is the gluten found in wheat products and, to a lesser extent, lentils, corn, kidney beans, and cabbage. Ideal exercises for Type O's include aerobics, martial arts, contact sports, and running.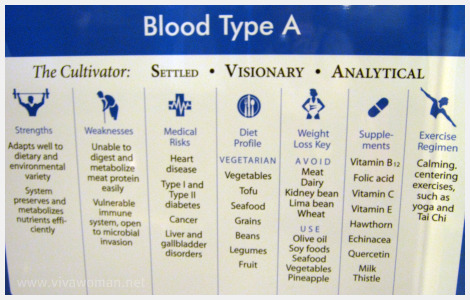 Type A
Those with blood type A, however, are more naturally suited to a vegetarian diet and foods that are fresh, pure, and organic as Type A's are predisposed to heart disease, cancer, and diabetes due to their sensitive immune system. Type A's prefer calming, centering exercise, such as yoga and tai chi.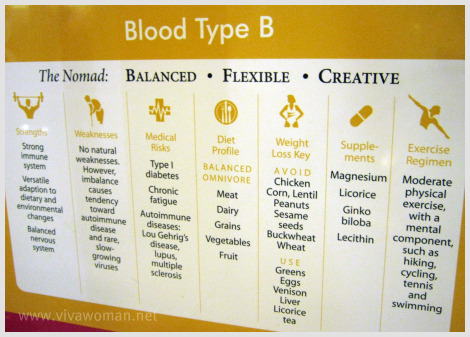 Type B
Type B's have a strong immune system and a tolerant digestive system and tend to resist many of the severe chronic degenerative illnesses, or at least survive them better than the other blood types. Type B's do best with moderate physical exercise requiring mental balance, such as hiking, cycling, tennis, and swimming.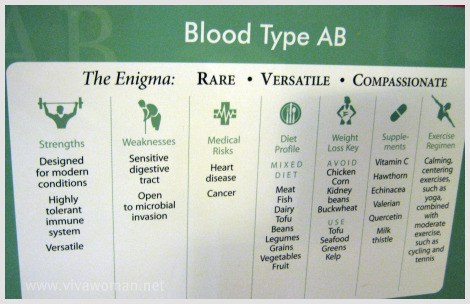 Type AB
Blood type AB, the most recent, in terms of evolution, of the four groups and an amalgam of types A and B, is the most biologically complex. For this group, a combination of the exercises for types A and B works best.
More information at the website
I've read of this information but haven't followed the suggested diet for my blood type. However, I've recently heard my hairstylist talking about this and stating that he's been feeling better since cutting down on meat intake because he's a type A. Anyway, I thought this makes interesting read for those who are into inner health and beauty as we are what we eat. I'm a type B and it seems that a balanced diet works well for me.
If you're keen to find out more, check out Dr. Peter D'Adamo's website, which has more detailed info on the various blood types. You may also like to know that he has designed a new cosmeceutical line called D'Adamo Genoma Skin Care that specifically combat and remove (Advanced Glycation End-products) AGE molecules.
So tell me, what's your blood type?
Comments