Beauty makeovers: what would you like to be?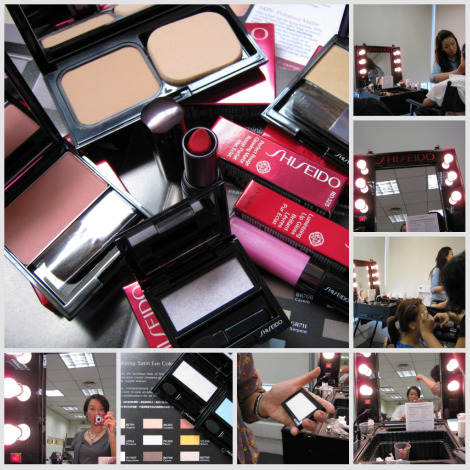 A glamorous babe? An enhanted princess? Or maybe a runaway model? For me, I'm not quite sure. Maybe it's the punk rock inspiration complete with smoky eyes and disheveled style although I doubt I can carry it off because it it takes a certain kind of attitude to look that part too. So I had no idea what to expect when I was invited to the Shiseido makeover session on Thursday. I accepted the invitation out for some quest for fun, but really, I was slightly afraid that they're going to make me look over-the-top! The last time I had a makeover was during my wedding and I could hardly recognize myself with all the heavy makeup. I was literally, uncomfortable in my own skin!
Barely-there look with an immaculate finish
But surprise! I was introduced to the Shiseido Spring/Summer 2010 collection that creates the barely-there-look with an immaculate finish. At the basic, the Sheer Matifying Compact foundation creates a soft matte look with a tinge of natural sheen. The powder is very fine to conceal pores and imperfection and the plus point is that it can thoroughly absorb excess oil to give a long-lasting, shine-free finish. Very true because my acne blemishes were quite well concealed after the makeover and what I really liked best was that the coverage wasn't heavy. And as you can see from the pictures, my skin tone looked a lot more flattering after the makeover. Well, okay, apart from the compact, the makeup artist also used a highlighter so I guess that aided the brightness too.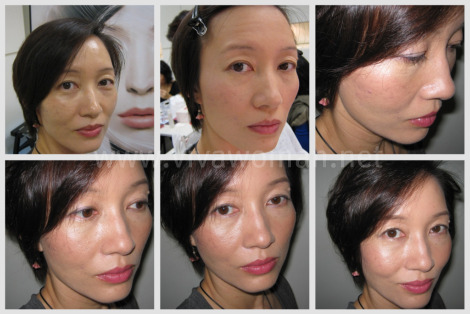 Pastel twist for the eyes
I do not use an eyeliner and don't find myself looking good from the various experiences where I had when others apply that for me. Good thing, the Shiseido makeup artist only applied the eyeliner to my upper lid and for my eyes, she used a combination of violet and blue (Ghost & Sky) under the Luminizing Satin Eye Color and the end result was fresh but not tacky.
Soft blushing for the cheeks
My favorite was the way she applied the blush using the Luminizing Satin Face Color. No red apples there but instead, the finishing was soft with just a hint of pink. I wonder if I can achieve the same on my own!
Juicy looking soft finish for the lips
I have forgotten which lipstick was used on my lips as the one I received in my goodie bag appeared a lot redder. But perhaps it was the Luminizing Lip Gloss that gave me that pinkish shade…not too sure. Oh, if you're into lip gloss, then you've got to try this range because it's moisturizing but not sticky.
I CAN recognize myself
So yeah, in the end, I was still ME after the beauty makeover. Okay, I didn't like the way they did my hair because it didn't flatter my face at all. Judging from the compliment I received from Mag of Makeup Stash on the back of my hair, I think the lack of a mirror might have to do with it as the stylist obviously paid more attention to what she could see from behind! What you see in the pictures were not the initial hairdo but a couple of hours later, after the styling had calmed down. I suppose it's quite hard to style my short, limp hair as those with longer hair like Joyce of Ateliergal had a more flattering look! You can also check out the color swatches and read the accounts of the makeover session by other beauty bloggers over at Shiseido's Facebook.
Your chance for a perfect transformation
The Shiseido Spring/Summer 2010 collection will be available at the Takashimaya Department Store on 26 February. If you like to experience a face and hair makeover with the collection complete with an A-4 size photo momento and door gift, you can purchase their S$88 fully redeemable voucher from 26 February to 4 March.  Just call the Shiseido counter at Takashimaya Department Store at 6735 1039 to make your appointment.  And if you purchase any Shiseido makeup item, you can also participate in their one-to-one hands-on makeup workshop to learn the art of creating gorgeous lips.  Again, call the same number to make your appointment.
Comments