Natural sunscreens spotted & an update on MVO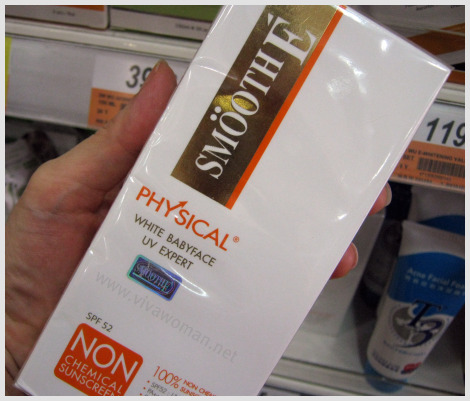 Today's entry is to share my thoughts on two natural sunscreens I recently spotted in our local market. In addition, I am also providing a quick update after using the new Marie Veronique Organics Moisturizing Face Screen + samples received last week.
Smooth E Physical White Babyface UV Expert
I was browsing the shelves at Guardian when I saw this Smooth E Physical White Babyface UV Expert, and the words non chemical sunscreen struck me. As some of you may already know, I'm obsessed with physical sunblocks or mineral sunscreens as others call them, and so I picked this up to check. Lo and behold, the ingredients looked good to me until I saw the words Nano-TiO2 and ZnO.
Controversy on nanoscale titantium dioxide
Well, there are a lot of discussions related to sunscreens that contain nanoscale titanium dioxide – some claim that they present a real danger and pose potential penetration concerns as well as possible DNA damage while others found no evidence of skin penetration to pose viable toxicity concerns. I'm not keen to go into details of this here as I've covered this in the past – you can read the resource at EWG for more information.
I used to be a lot less concern but these days, I generally avoid using sunscreens containing nano particles for the simple reason that I have lots more choices. So despite the fact that the Smooth E Physical White BabyFace UV Expert only cost S$15.90, I had to give it a miss. If only they had used just micronized TiO2 and Zno because it is a really affordable natural sunscreen!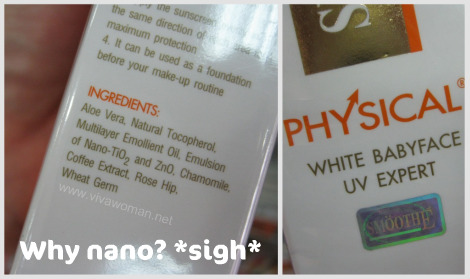 Customizable natural sunscreen from SPF15 to SPF50
But the good news is, I found another range of natural sunscreens – from SPF15 to SPF50 – all containing zinc oxide only at The Skin Pharmacy located at City Square Mall. I can't remember the prices precisely but they were no more than S$60 I think. And because they didn't allow me to take any pictures, so I can only rely on my ailing memory to remember that most of the ingredients appear natural. I didn't like the texture too much though because it felt a little sticky and dry when I tried it on my hand but I was told that they pharmacy has the flexibility of customizing the ingredients according to consumer's preferences. So definitely some good news for those in the market for a natural sunscreen and want a texture to fit their skin type.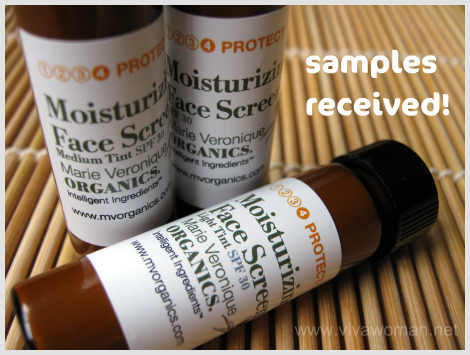 Marie Veronique Organics Moisturizing Face Screen +
Finally, a quick update on the new Marie Veronique Organics Moisturizing Face Screen + – formerly known as Creme de Soleil. I was happy that that the samples sent to me are similar in texture and smell as the old formulation even though they've replaced acai oil with yangu oil plus they've removed the pearl powder and mica.  There is still a powdery texture to the tinted versions but as I've explained in my previous entry, this doesn't bother me as the finishing is smooth once applied on my skin. So yes, overall, I'm very happy with the new formulation and would continue using it.  As reviewed, the non-tinted version can leave a slight whitecast so the light tinted version is good and works for me as a light makeup base too.  And those with darker complexion would be happy to know that they can choose the medium tinted version.
Marie Veronique Organics Moisturizing Face Screen Plus SPF 30 retails at US$45 and you can get it shipped to Singapore with for an additional US$12.
Comments