Review: EO Clarifying Shampoo & Shower Gel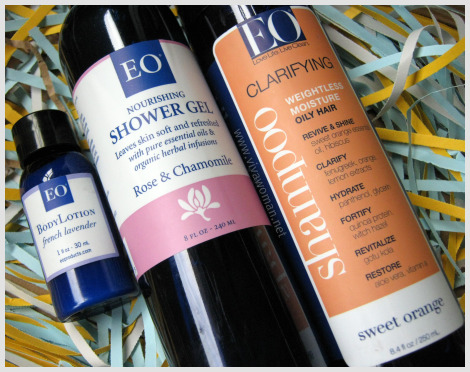 So of course I had to get something from the EO range while I was at Dragon D'or Cosmetics in Chinatown. Besides the Rose & Chamomile Shower Gel, I also purchased the Sweet Orange Clarifying Shampoo. According to Anna, this shampoo is suitable for my oily scalp.
Results were encouraging after the first day
The first time I tried this shampoo, I was dismayed with its ability to foam and I attributed it to the fact that it does not contain SLS. In the end, I had to shampoo twice but I didn't notice much of a difference to my hair after blow drying. However, except for the fringe, my hair remained relatively oil free the entire day and that was good news for me. The better news was when I used it the second day; the foaming was great the first time and I didn't even need a second shampoo. And after blow drying, my hair looked a lot fuller! I was very pleased with the results, even though my fringe did look kind of oily after a few hours. In fact, after a few more washes using this shampoo, I found less need to use a conditioner as my hair wasn't so straw-like.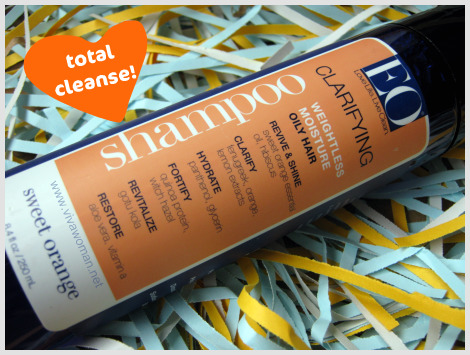 Unique formula clarifies and cleanses hair
I believe the reason why the shampoo did not foam so much the first time I used it was because of my oily scalp – the higher oil concentration had induced a coalescence of the foam bubbles during foaming and, as a result, the foamability decreased. So with continuous usage, my scalp had become less oily and that explains why the shampoo was foaming well after that. This unique formula indeed clarifies the hair shaft to remove excess oil for a light and clean feel as promised!
A combination of plant nutrients and essential oils
The EO Sweet Orange Clarifying Shampoo is described as suitable for normal to oily hair. The synergistic formula of plant nutrients and essential oils not only help to cleanse, but prevent excess oil buildup as well as revitalize hair follicles to improve hair growth and health. In place of sodium lauryl/laureth sulfates, the pH balanced and biodegradable Coconut Cleansing Complex creates the gentle foam to clean naturally without striping the hair of its natural oil.
However, because of the clarifying properties, I'll most probably use this shampoo maybe thrice a week and not daily. If you feel your hair has been weighed down and your usual favorite shampoo isn't working so well, you might want to try a clarifying shampoo like this one to get rid of the excessive buildup.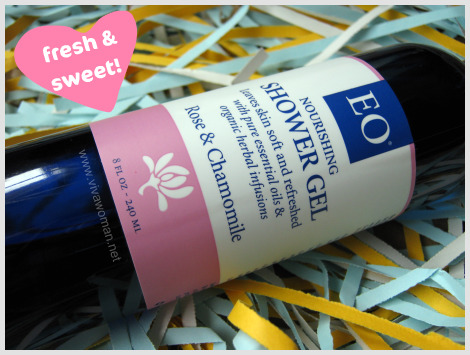 Sweet smelling and soul pampering
Actually, there is nothing much to review about the EO Rose and Chamomile Shower Gel except that it's great smelling and very pampering with its gentle formula of pure essential oils and organic herbal blends. (all EO products smell good anyway!) The shower gel contains proprietary EO Softening Complex plus Marsh Mallow and Lemon Balm extracts to soften skin naturally and EO's richly foaming Coconut Oil Cleansing Complex to gently cleanse without drying. Like the EO Lemon Verbana Shower Gel reviewed in 2007, I love this! Very good to perk me up in the mornings as well as after a long day!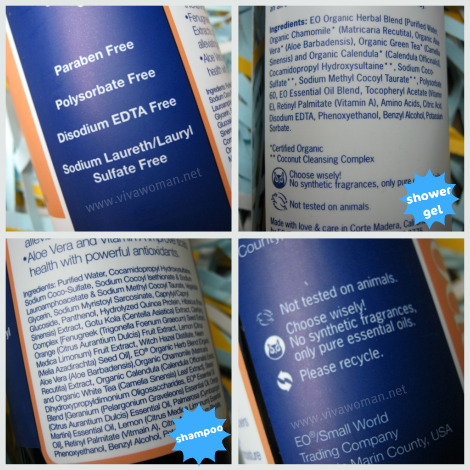 Low in toxins and no animal testing
In addition to being paraben free, polysorbate free, disodium EDTA free, and SLS free, most of EO's products are low in toxins according to EWG and hence, are safe to use. The good thing is the products are also not tested on animals so definitely good news for the animal lovers.
Other EO products I have reviewed
I think Dragon D'or Cosmetics has raised the price of their EO products as I remember paying like $16 or $17 for the shower gels. That, or perhaps the shampoo cost more as I paid like $38 for both and Anna threw in a sample bottle of EO Body Lotion in French Lavender that I reviewed before.  Another big love there!  The other EO product I tried was the EO Revitalizing Lotion for Legs & Feet but unfortunately, it seems that this product has been discontinued.
Cheaper to get online
Anyway, I love EO products.  It's hard to find them in Singapore and Dragon D'or Cosmetics seem to be the only one with a comprehensive range.  The prices are a lot higher than what you can get online but given my experience spreeing for bath and body products, I'll rather buy them here as I sometimes do not enjoy any savings after factoring in the expensive shipping.
Comments