Should I wear sunscreen in front of my PC?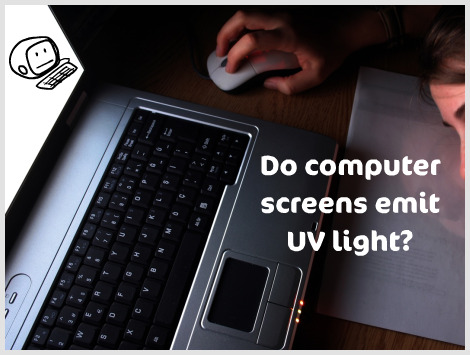 Recently, a reader by the nick of Guest, left a comment asking if we need to wear sunscreen when using the computer for long hours. My initial response was that we should at least use a moisturizer with SPF15 if we spend prolonged hours in front of our systems. However, I've since verified that it also depends on the type of computer screens in question.
Newer flat LCD monitors do not emit UV lights
Unless you're still using those large, box-shaped monitors known as CRT monitors that emit low levels of UV light, most of the flat-panel, or LCD monitors on your desktop computers or laptops have not been found to emit any UV light (source). So your LCD TV is safe too! In fact, an anti-glare computer screen is standard on most LCD monitors these days so there is nothing to worry about. *Yay to long hours of web surfing!*
Problems only for those with XP disorder
In addition, I also learnt that the UV light emitted by CRT computer screens is a fraction of what is emitted from a fluorescent light.  But this small amount of UV light may pose problems for those with severe cases of xeroderma pigmentosum, or XP –  a disorder wherein the body cannot repair UV damage to the skin.  It is thus recommended that those with extreme XP should switch to using computers using LCD monitor or use an anti-glare computer screen designed to cut down on the amount of light that reflects off the display.
Wear a SPF15 moisturizer in the day even indoors
But still, you want to be protecting yourself indoors by at least using a moisturizer containing SPF15 due to the UV radiations from fluorescent lights, or any high intensity discharge lamps, halogen lights, and copier machines you may come across. Don't forget the UV lights do come in from the windows! And in the night, use candles or sleep really early! *Heh*
Comments