Can your computer be harming your skin?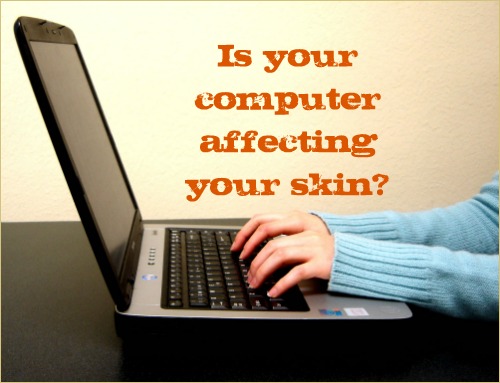 We all spend a lot of time on our computers. I most definitely do, and I wish I can minimize contact with mine but it's just not possible. But have you stopped to consider what your computer is doing to your skin? Is it adversely affecting your skin? Maybe not now but perhaps with prolonged usage?
1. Dark eye circles
While dark eye circles can be hereditary or caused by poor diet, health or a lack of sleep, spending long hours in front of your computer can aggravate the condition. I know for a fact that my dark eye circles become more prominent when I spend too much time staring at the computer screen due to the strain on my eyes. In fact, I also noticed that my eyes can also get puffier than normal.
2. Crow's feet
Crow's feet are the clusters of wrinkles that appear around the outer corners of eyes. When you're on your computer for too long, your eyes tend to become tired and you tend to blink more or squint and that can contribute to crow's feet in the long run if you're not careful.
3. Skin pigmentation
This seems to be a common concern and it doesn't help that the media are reporting that youngsters who spend 7 – 8 hours on their computers daily are facing pigmentation disorder (source: Indian Express). However, I noted that the origin of the report and wonder if they are still using those large, box-shaped monitors known as CRT monitors that emit low levels of UV light? Based on my research and even discussions with my husband who is well versed with monitor displays, most of the flat-panel, or LCD monitors on your desktop computers or laptops have not been found to emit any UV light (source). So your LCD TV is safe too! In fact, an anti-glare computer screen is standard on most LCD monitors these days so there is nothing to worry about.
4. Skin discoloration
Okay, this is very interesting because some of us prefer mobile computing and that possibly means carrying your laptop into your bed. Now, are you balancing your laptop on your knees or tummy? Well, you really don't want to do that as the heat generated by the computer can cause permanent discolouration of the skin and, in rare cases, cancer. In fact, this condition is termed the 'toasted skin syndrome', according to a report from Mail Online that showed a picture of a 12-year-old boy who developed a sponge-patterned skin discolouration on his left thigh after playing computer games for a few hours every day for several months.
5. Dull skin tone
I've read some women complaining that their skin tone appears duller when they work too long on their computer and my guess is that it's due to a lack of blood circulation as they're seated all day long.
6. Skin allergies
This is probably applicable to those with really sensitive skin or who have a medical condition as it appears that some people actually develop pretty severe skin allergies after prolonged exposure in front of a computer screen. Some of the symptoms sounds kind of alarming according to articles found here and here.
While it's impossible to avoid using your computer or laptop, but just note that you should not be spending long hours in front of the screen. Take frequent breaks, drink lots of water while working, and use a sunscreen if you're worried about skin pigmentation.
Comments