Wear sunscreen even when you go shopping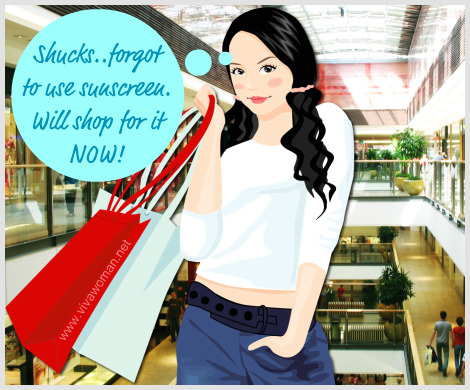 Although I know that fluorescent lights emit UV radiations, I didn't think they are significant enough for me to be too concerned. I remember reading that regular fluorescent light bulbs used at home and office do not produce a hazardous amount of UV light. Most light sources, including fluorescent bulbs, emit a small amount of UV, but the UV produced by fluorescent light bulbs is far less than the amount produced by natural daylight.
False sense of security
In fact, according to GE Lighting, a paper by the National Electrical Manufacturers Association (NEMA) explores this subject in more detail and determined that UV exposure from sitting indoors under fluorescent lights at typical office light levels for an eight hour workday is equivalent to just over a minute of exposure to the sun in Washington, D.C. on a clear day in July. That is why while I always wear sunscreen even at home, but I've always had that false sense of security that I won't need much that much protection when I'm indoor. So I tend to cut the amount of sun protection by not taking my Heliocare sun protection pills if I'm not heading to anywhere hot – like shopping! However, I got a shock after reading an article in the latest copy of BeautyMap that states that a two hour shopping spree in a brightly lit mall is equivalent to spending about an hour in the sun!
Range of UVA & UVB found in fluorescent lighting
I scoured the Net and realized that the information had come from the online Support Group for Sun Sensitive People:
A two hour shopping spree in Walmart is equivalent to a full hour in the sun. You don't get sunburned but you do get the full hour of UV rays. Hospitals and clinics also use very bright fluorescent lighting. Other sources of UV radiation is from copiers, computer screens, welding, and various kinds of lighting.
The UV radiation found in fluorescent lighting is present in two forms: UVA (320 to 400 nm), and UVB (280-320 nm). Fluorescent lighting gives off up to 380 nm of UVB rays and up to 400nm of UVA rays unless the fixture is fitted with a special lens. Some sources indicate that fluorescent lights emit more UVB than the sun and in the 1992 edition of the American Journal of Epidemiology, it was found that fluorescent lights emit "10-30 times" more UVB radiation than the sun does.
UV protective panel
According to the Support Group for Sun Sensitive People, most fluorescent lighting can be covered with a protective Plexiglas panel that allows light through but not the radiation that triggers the pain. There is a UV protective panel available for fluorescent lighting fixtures but because of cost, it is usually not installed in offices and stores. I am guessing that this is why some articles suggest that the UV produced by fluorescent light bulbs is insignificant. However, I have no idea how we can verify if the lights are installed with such panels. Are they obvious to identify?
Use a broad spectrum sunscreen with at least SPF15
Assuming not, then the amount of UV from all the fluorescent lights in a shopping mall put together must be quite substantial! No wonder I sometimes feel tired and sick after just a few hours of shopping! So it's really wiser to use a sunscreen with at least SPF15 when you're out on a shopping spree or at least a moisturizer with broad spectrum protection against both UVA and UVB. I for one, am going to remember to take my Heliocare too. It maybe raining cats and dogs outside but you're still going to get UV exposure in the malls!
Comments