Viva Challenge: floss daily for good oral health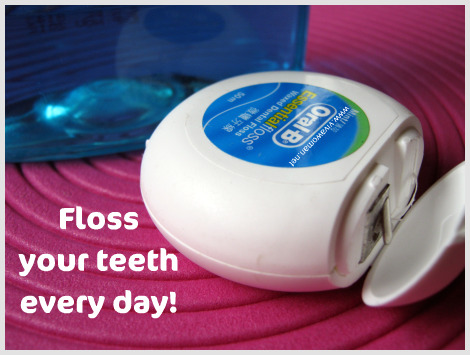 Second day of the Chinese New Year and I want to issue you a challenge? Okay, this is a relatively easy one and a good one too because you probably had too much to eat anyway. Plus, I need some community spirit to get me doing this more often because I've been rather lazy when it comes to my dental routine.
Floss back and forth two to three times
In fact, in a recent dental visit, I was told I need to floss more. Well, I actually do but I don't move the floss back and forth two to three times between each tooth. For me, it's just once and that's all. Apparently, that is insufficient. And why is flossing our teeth daily important?
Remove decay-causing plague buildup
Well, because brushing alone cannot remove decay-causing plaque and food lodged between the teeth. So we need the additional step of flossing to maintain healthy gum, prevent bad odor as well as tooth loss. I also found out that fluoride coated floss is better than standard wax as it can better grip in between the teeth and remove particles.
Sterilization from mouthwashes are temporary
And those who think that you don't have to floss because you rinse your mouth with mouthwash have to rethink again because the sterilizing effects of mouthwashes are but temporary.
So ready to join me to take on this challenge if you're not already flossing your teeth? I need inspiration to do this daily and reminders to floss all my teeth, including those molars!
Comments