When your fave product changes formulation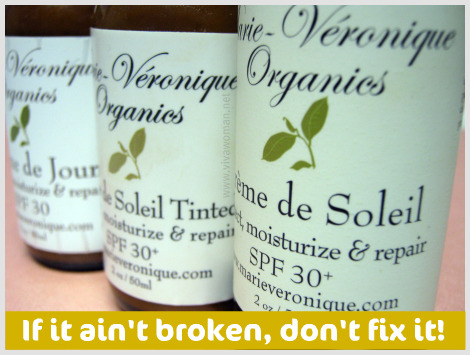 What do you do? Tear your hair out? Scream at the company? Gripe bitterly? Okay, I choose to gripe here. WHY? WHY? WHY?
I hadn't realized that Marie Veronique Organics had changed the name of their sunscreens until I read a comment from Yings. She wanted to know if the new Moisturizing Face Screen Plus is the same as Creme de Soleil that I have been raving about. I knew they were revamping their website but I had no idea that they also revamped their product lines! And when I took a quick look at the ingredients, it looks like the formulation has changed slightly too as Moisturizing Face Screen Plus and Moisturizing Face Screen have 24% Zinc Oxide as opposed to 20% in the Creme de Soleil and Creme de Jour!
Newer formulations don't always work better
I don't know about you but it's very annoying for me when my favorite products takes "an upgrade" and the formulation is all different. It's all fine if the product works well, but it isn't always the case. And sometimes, the new formulation just isn't as good as the old. In fact, I've often come across similar gripes at Makeupalley where the reviewers complained about how the new formulation of a certain product is less effective and how they wish for the old formulation to remain.
Consumers are at the losing end
Of course companies will justify that the changes are for the better and sometimes, they take the opportunity to raise their prices as well. I've even seen prices of products gone up just because of a change in packaging. So as consumers, what can we do apart from not buying the product? Write to the company? Express our unhappiness in the forums? But can that change anything? If you're a company reading this, I'll like to hear your views. Why would you change your product formulation if the product has been selling well?
24% zinc oxide can be potentially too drying
Back to Marie Veronique Organics. I know they have a history of changing the names of their products but I was hoping for some explanations regarding the sunscreens. But there was nothing that I could find on their website. While most of the ingredients look the same to me, but I'm highly uncomfortable with the content of the zinc oxide going to 24% as based on experience, anything above 20% can potentially be too drying for my skin. So I'm really unsure if I want to order the product anymore even though the price is the same plus they now offer two different shades of tinted sunscreens and they can even ship direct to Singapore!
Anyway, I feel like a deflated balloon now. Just when I thought I found my HG sunscreen, they have to go change the name and formulation. Looks like I might have to go hunting for another sunscreen again. *sulks*
Comments