Marie Veronique Organics Kid Safe Screen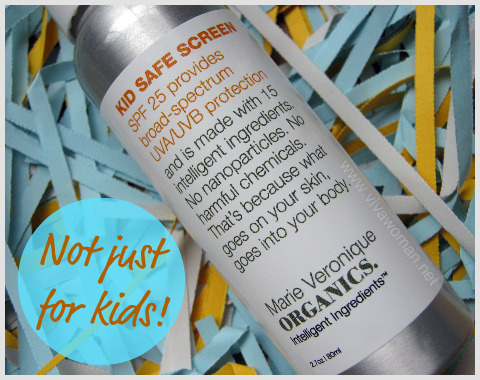 So I mentioned in my last post that I've been trying out Marie Veronique Organics Kid Safe Screen. It's a new product and I have just received the 80ml bottle complimentary from the company. I had intended for it to be used on my boy but I find myself liking this on my own skin too.
Broad spectrum protection with SPF25
The Marie Veronique Organics Kid Safe Screen has an SPF of 25 and uses 19% non-micronized, non-nano zinc oxide, which means it provides sufficient broad spectrum protection against both UVA and UVB rays and is safe. The name suggests that this is a product for children but it's also positioned for the whole family. Unlike the adult version which is Moisturizing Face Screen Plus, Kid Safe Screen is made with 15 ingredients including green and white tea, fractionated coconut oil, sunflower oil, avocado oil, MVO butter, vegetable glycerin, potassium sorbate, xantham gum, allantoin, Cosmocil CQ, glycine soja lecithin, rosemary oleoresin, ylang ylang essential oil, and iron oxides.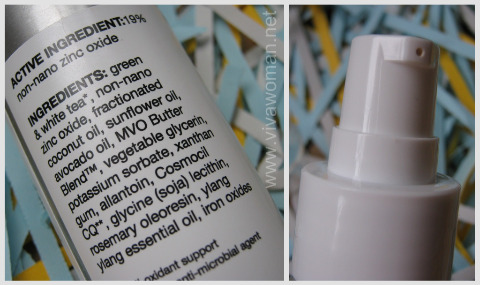 Packaging and smell
MVO Kid Safe Screen comes in an 80ml aluminum bottle with a white pump dispenser. It's easy to use and there's no mess; one pump is sufficient for a small face although you most probably want to apply more if you were to be out under the hot sun for a prolonged period. It's not marked as water resistant but I believe you should be reapplying every two hours if you're using this for outdoor purposes. The product has a scent; I can't describe it well but it is very faint and is not fruity, floral or herbal. I wonder if it's due to the xantham gum as I remember a product with that ingredient smelling the same.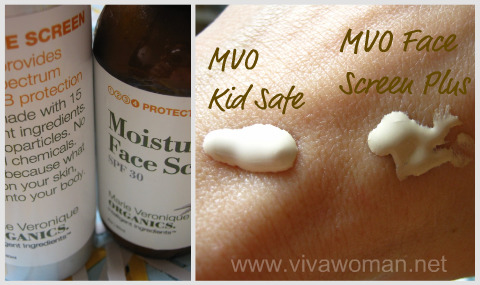 Texture and application
The texture of Kid Safe Screen is thick and creamy. However, it is not greasy at all. In fact, when I apply this on my boy's face, it blends in well, does not leave a white cast and is matt to the touch. On my combination skin type, it is drying on its own but blends well when I apply it over my facial oil. Again, I do not see a whitecast. But do note that both my boy and I have fair skin tone.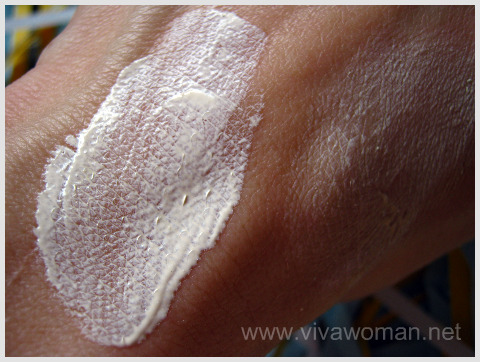 Kid Safe vs Face Screen Plus
As you can see from the picture, the MVO Kid Safe Screen looks thick; it does take a longer time to blend in, but once it is blended in, you can hardly see anything. On the other hand, the MVO Moisturizing Face Screen Plus is more lotion like and spreads thinly. Yet, after blending in, you can still see a very faint whitecast although this whitecast is almost non-existent on my fairer face.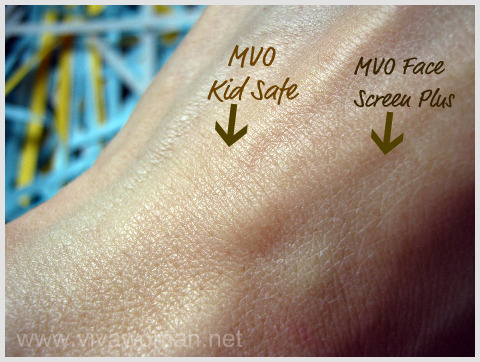 Sunscreen for mom and child
I still like Marie Veronique Organics Moisturizing Face Screen Plus (click to read my review) as it works very well for my combination skin type and I have no intention of switching. However, I concede that the 60ml bottle is quite costly at US$40 and that's not including shipping to Singapore. So for those who do not mind the lesser number of ingredients and the slightly lower SPF level, the 80ml Marie Veronique Kid Safe Screen at US$24 seems like a more affordable alternative especially if you have a kid, and you want to share this with him or her. Okay, you can of course also share this with your partner but if he's got big mass like mine, then you'll most probably have to replenish very quickly.
For more information on Marie Veronique Organics Kid Safe Screen, look up the product on their website.
Comments