Would you go to a neighbourhood hair salon?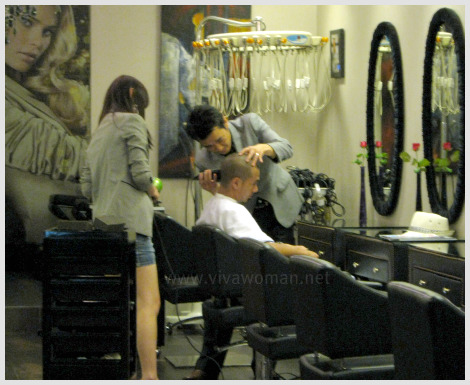 I skipped the DIY hair coloring and went to a neighbourhood hair salon some weeks ago to have my hair highlighted instead. The result was fine, and I don't have much to complain about. I paid S$138 for my short hair with the lowlights and highlights, as opposed to having to shell out $200+ at my usual salon in town. But I declined the colorist's request to cut my hair because that's something I won't compromise on. Only my hairstylist can cut my hair.
May lack consistency
Actually, some neighbourhood salons aren't too bad. I was going to them to have my hair cut and permed until my teens. Admittedly, their services can get a little sloppy at times and perms are not always great because I usually had two different hairdressers curling my hair so the consistency wasn't always right as well. Later, I learnt to ask for one person to curl my hair but only got obliged if the salon wasn't packed.
May lack ambience
In terms of ambience, of course few neighbourhood salons can match up to those in town with sleek looking decors or built-in wall TVs. In addition, the selection of magazines are usually not as recent and not as interesting. Even the washing areas are less exclusive. But does that really matter? If my hairstylist were to work in a neighbourhood salon, I'll still visit him there to have my hair cut.
Paying for dedicated service
In fact, that happened some years back when he went to work for a friend in Jurong. And then when he moved to Le Salon at Takashimaya which was so expensive, I still continue using his service. The salon is known for the unique creativity and does have extra services like a dedicated lady to dust off your hair after your haircut, but really, what mattered to me was the end result. Yet, I had to pay through my nose just to have my hair cut by him. Good thing he decided to move on and that helped eased a big load off my pocket too!
Hairstylists doubling up and taking other salon jobs
Skills aside, I think if we cut out the snob factor, some of our hair services can be done at the neighbourhood hair salon. In fact, some of these salons have good hairstylists and colorists too. Just that instead of just focusing on design a cut or coloring, they could also be doubling up to shampoo and blow dry your hair.  I've even seen some doubling up as cashiers!  And that's probably one of the reasons why we don't have to pay so much too!
Share your neighbourhood hair salon experience
So do you go to a neighbourhood hair salon or an upmarket hair salon? What services would you go for at a neighbourhood salon and what was your experience like? Me? I'll stick to highlighting, coloring and hair treatments. Other than that, I'll visit my usual hairstylist in town.
Comments