Avoid applying on eye area: ignore or follow?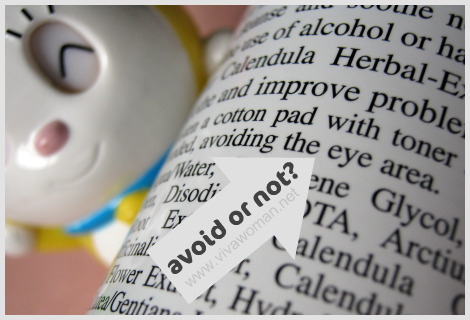 Instructions on most skin care products tell us to avoid applying such products on our eye area. This is due to safety reasons to avoid seepage into our eyes. In addition, the skin around our eyes is ten times thinner than the skin on our face and hence, more sensitive. As such, extra care needs to be taken when choosing a skincare product for this area and most often than not, it is better to use dedicated products created for the eye area. However, does this mean that we definitely can't use our toners, serums and moisturizers around our eye area?
Avoid using harsh ingredients that can irritate eye area
Personally, I use my toner, serum and sunscreen on my eye area even though I use an eye gel. Because the products I use are natural and contain mostly non-irritating ingredients, I am less worried about using them around my eye area. In fact, I have even used vitamin C serums around my eye area, although it is typically not recommended as it may cause reddening for some people. My rationale for using such products is because I want my eye area to enjoy the antioxidant benefits. However, if you're using products containing Retin-A for example, you probably want to steer clear of the entire eye area when applying due to the potential side effects like flaking and peeling.
Avoid applying creamy and oily products to the eye area
I avoid using my moisturizer around my eye area though. This is because I'm fearful of developing milia seeds. Although some experts like Paula Begoun have claimed that it's fine to use facial moisturizers on our eye area, I think it is better to exercise caution in this regards. It might work if your product is oil free. As for facial oils, I do use them on my eye area although I wouldn't dab the oil directly, except on the outer area with crow's feet wrinkles. What I do is to bring the oil gently over my eye area when applying.
Avoid exfoliators and face masks around the eyes
It is common sense to avoid exfoliating your eye area unless you do not care for wrinkles or the scrub beads getting into your eyes. The same applies to face masks as most of them tend to be too concentrated in terms of the ingredient mix. I would however, make an exception to sheet masks, as those are not in creamy form and the serum can even be dabbed around the eye area after usage – unless it contains any harsh ingredients.
Exercise caution and discretion
However, having said all that, please check your own eye condition. If you have sensitive eyes, then it's better to avoid all such products altogether as they may potentially irritate your eyes due to seepage. If you are a contact lens wearer, it's also best to avoid products containing oil as the oil not only sticks to the lens causing blurred vision, but can also cause permanent staining.
Question for today: do you follow instructions stated on your skin care products strictly and avoid applying them to your eye area?
Comments