Bliss salt scrub & body butter: treats for feet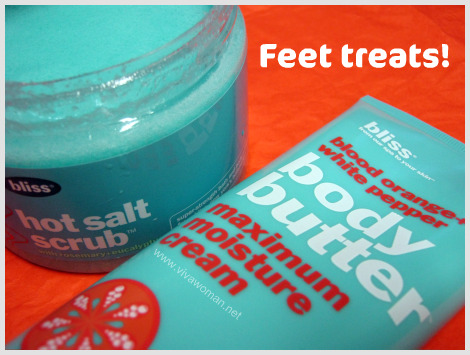 Recently, I've taken to using bliss products on my feet and am loving them! I received the bliss hot salt scrub and blood orange + white pepper body butter during the last media launch and gosh, these are lovely stuff even though they don't fit in the natural/organic skincare category at all.
bliss hot salt scrub 400g S$57
To be honest, I wasn't so excited about the hot salt scrub and was actually thinking of giving it away. But when I needed a foot scrub, I put this to the test and was surprised that it's such great stuff. The salt scrub is to be rubbed on dry skin and the dead sea salt grains are rather coarse but the fun part is, as you rub, the scrub feels warm on your skin! It contains rosemary and eucalyptus essential oils but the smell of the latter ingredient is stronger. What's great is that because the scrub is glycerin based, the skin feels smooth without any oily residue. I've also used this on my hands and seriously, this leaves the skin super soft and smooth!
Ingredients of bliss hot salt scrub
Sea Salt, Glycerin, Polyglyceryl 10 Dipalmitate, Water, Butylene Glycol, Plankton Extract, Kelp Extract, Algae (Seaweed) Extract, Bladderwrack Extract, Fragrance, Propylene Glycol, Diazolidinyl Urea, Methylparaben, Propylparaben, FD&C Blue 1 (CI 42090)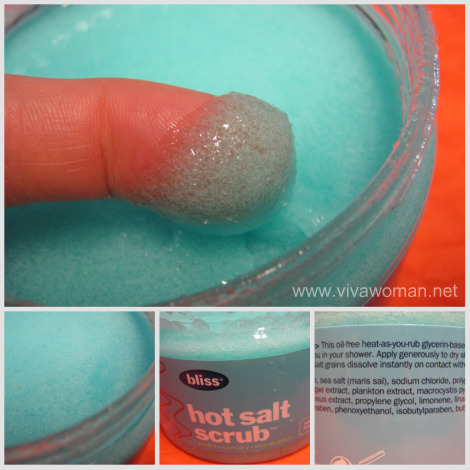 bliss blood orange+white pepper body butter 250ml S$49
I tried this during my last pedicure at bliss spa and love the scent. And what I really like about this product is that it doesn't leave a greasy residue. Actually, one of the reasons I wasn't moisturizing my feet so often as I should was because most creams made my feet sticky and it was especially unbearable when I have to wake up in the middle of the night to visit the toilet. I also had to ensure that I wash my feet first thing in the morning so that they don't stain the floor. However, with bliss blood orange+white pepper body butter, I have nothing to worry about.
I doubt the cream is fully absorbed into my skin but somehow, I don't even feel there's much to wash off in the morning. Yet, after using this cream for weeks now, my feet is well moisturized and the heels are not as dry as before. And it helps that the smell is so invigorating! I even like to use this on my hands sometimes.
Ingredients of bliss blood orange+white pepper body butter
water (aqua), cocos nucifera (coconut) oil, ethylhexyl palmitate, hydrogenated vegetable oil, cyclopentasiloxane, cetearyl alcohol, dimethicone, polysorbate 60, dimethiconol, steareth-2, fragrance (parfum), propylene glycol, hydroxyethylcellulose, carbomer, diazolidinyl urea, butylene glycol, tetrahexyldecyl ascorbate, sodium hydroxide, methylparaben, tocopherol, disodium EDTA, glycine soja (soybean) oil, sodium hyaluronate, BHT, propylparaben, algae extract, piper nigrum (pepper) seed extract, citrus aurantium dulcis (orange) fruit extract, retinyl palmitate, carthamus tinctorius (safflower) seed oil, phenoxyethanol, calluna vulgaris flower extract, chlorphenesin, citric acid, sodium dehydroacetate, butylparaben, ethylparaben, isobutylparaben, benzyl alcohol, citral, linalool, hexyl cinnamal, limonene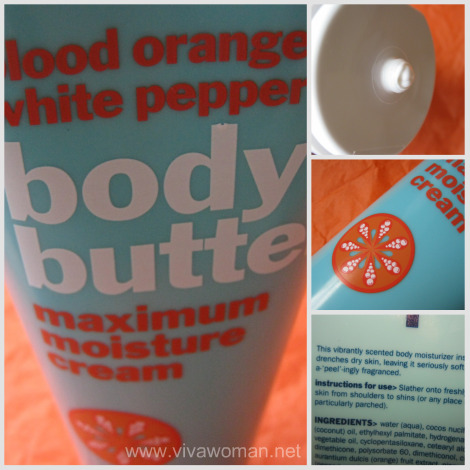 Overall summary
Apart from the ingredients, I have nothing to complain about these products. Both score well in performance and the feel good factor so it's a big thumbs up from me. Plus the prices aren't so high if you factor in the size of the products. In fact, I'll imagine the tube of body butter is going to last forever if I just use them on my feet. And since they contain a fair bit of preservatives, the shelf life is also a lot longer!
* Both products are available at Sephora or Bliss Spa.
Comments