DIY Beauty: ground pepper for rough skin areas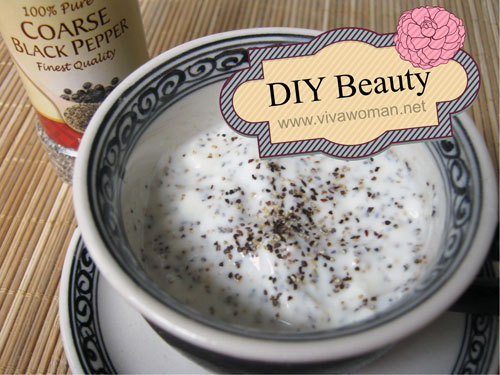 Okay, I'm not done with using spices for beauty. So sometime ago, I read that pepper can boost circulation when used on the skin and in fact be used for cellulite control as it has fat-burning properties and can fight the fatty deposits with its "warming" action. I was rather curious – wouldn't it be 'spicy' for the skin? Anyway, since I have a bottle of coarse pepper in my kitchen that was near expiry, I decided to put it to the test by making a sort of body scrub.
Great exfoliating agents
I know black pepper is used in some commercial products like the Molton Brown Re-Charge Black Pepper Bodyscrub Bar. The thing about coarse black pepper is that the the granules make them great exfoliating agents to cleanse, remove dead skin cells, and at the same time, stimulate lymphatic flow and blood circulation. However, I also read that pepper helps to cure Vitiligo, which is a skin disease that causes some areas of skin to lose its normal pigment and turn white. According to researchers in London, piperine contained in pepper can stimulate repigmentation of the skin (source) and so I'm thinking it is definitely not a good idea to use black pepper on the face at all. Anyway, thank goodness the granules are too coarse for our facial skin!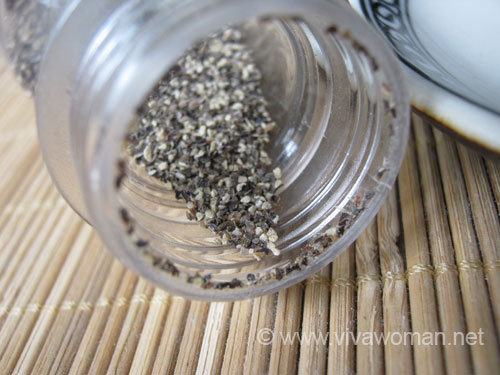 Simple recipe using 3 ingredients
I decided to make a simple scrub using yogurt, salt and coarse black pepper. Now since it's a scrub, I didn't make exact measurements but it was quite a bit of salt and pepper altogether and the end result was a good exfoliating scrub for rough areas like my elbows, the knees and my feet. And no, I didn't feel any warm, tingling sensation either. I guess the yogurt might have 'cool' it off?
Make a moisturizing scrub using oil
Anyway, if you want a more moisturizing scrub, you can replace the yogurt with olive oil or almond oil but I can't promise that you won't feel any heat because when I tried rubbing just a handful of the coarse pepper on my skin, I did feel a slight warm sensation.
Comments