Brand spanking new launches from Bliss Spa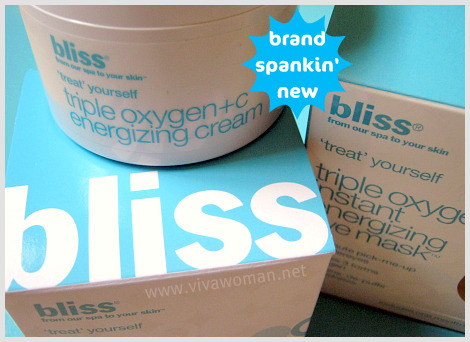 Those of you in United States may have already seen these products from Bliss. In fact, the Bliss Triple Oxygen + C Energizing Cream has just been launched for a couple of weeks but is already said to be a best seller, with more than 1,000 tubs sold a week or one tub sold every 5 minutes! However, locals in Singapore will have to wait till April to get their hands on the Bliss Triple Oxygen + C Energizing Cream that will retail at S$80.
Anyway, I received these products as part of a media launch organized by Bliss last week to introduce some of their new launches but I haven't tried them yet. Given that I prefer to use natural facial products, I might just give this away in my forthcoming VivaBella Giveaway to a lucky reader. Well, stay tuned to find out k?
Oxygen and vitamin C to recharge dull skin
The reason why Bliss Triple Oxygen + C Energizing Cream is such a hot item now is because this is a lightweight gel-cream that is formulated with a trio of oxygen ingredients and an advanced form of vitamin C to revive fatigued, sallow, stressed skin and give it that just-stepped-out-of-the-shower sheen. The unique pairing of Oxygen, which helps to support cell respiration and super-powered form of Vitamin C, which reinforces collagen synthesis, helps the skin rebound from external and internal stresses, improves skin hydration, and breathes new life into lackluster complexions.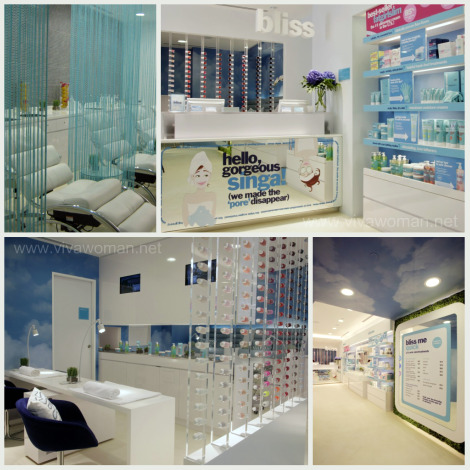 Three new blissful services
Besides the products, other new services unveiled at the media launch included:
bliss the ginger rub ($195, 120mins)
A massage legend in its own time. Boasts a brisk rub of freshly-grated ginger root and warm detoxifying essential oils, a cozy warming foil wrap, a 20-minute soak and a 100-minute body-melting massage
The double choc pedicure (60 min, $75)
A chocolate fete for your feet. This sweet treatment includes a hot chocolate milk skin-smoothing soak, a shin-sloughing sugar scrub, and all the prerequisites of a perfect pedicure – with a supremely creamy chocolate treat served on the side.
The new ʻpedi' colada (60 min, $75)
A tropical treatment that includes a pineapple-infused coconut milk soak, a shredded coconut scrub, a soothing massage, and a beach-worthy polish—while you sip a virgin piña colada.
Four treatment rooms to put you on cloud 9
I didn't get to try these services but you can read a review of my recent nail pampering session at Bliss to get an idea of their quality.  And you maybe interested to know that some of these treatments are performed at their four treatment rooms hidden from the public eye.  Very "secluded" for some serious skin and body regeneration activities!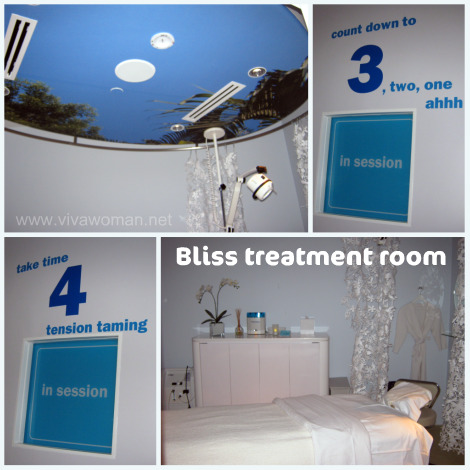 I think it would really be nice getting pampered in one of these rooms and then looking up at the blue ceiling. No wonder they say their treatments will put us on cloud 9!
Bliss Spa is located inside Sephora at ION Orchard. Call 6509 3511 for appointment or book online.
Comments