ChopSaver lip balm: not just for musicians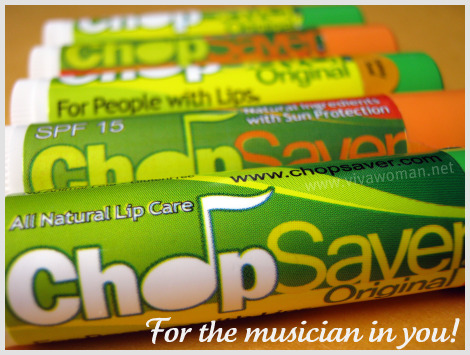 I don't play any musical instruments and I know nothing about them, much less the connection between them and a lip balm! So it was interesting for me to find out that ChopSaver was invented by a professional trumpet player, as an all natural, herbal lip care product for people who play a wind instrument because of all the chapping, swelling and soreness they experience. Interesting story isn't it? And certainly makes the ChopSaver lip balm sound more premium to me.
To be honest, I wasn't expecting much from this lip balm, which was sent complimentary by a local distributor to me for review. I guess I've tested too many lip balms, and to me, it's quite hard to differentiate unless you're talking about one that contains petroleum jelly. Okay, apart from one I've tried, most lip balms containing that ingredient don't work well for me and makes my lips more chapped at the end of the day.
Provides natural moisturization for lips
The good news is, ChopSaver does not contain petroleum jelly but I was still surprised that this natural lip balm exceeded my expectations. It managed to keep my lips well moisturized for a long time after just one application. In fact, if I didn't have to eat and wipe my mouth, the effects will probably stay on longer. And the best part is, my lips didn't feel heavy with them, and they feel just…natural.  Plus the citrus smell is also very refreshing so yes, I'm liking this one a lot now!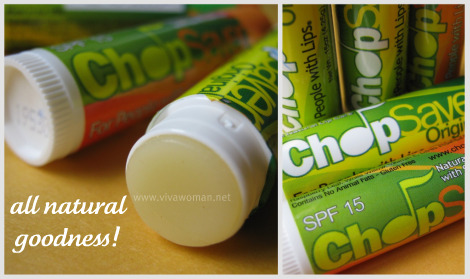 Ingredients for ChopSaver Original
The ChopSaver Original lip balm comes with these natural ingredients -Castor Oil, Candelilla Wax, White Beeswax, Shea Butter, Mango Butter, Aloe Vera, Carnauba Wax, Avocado Oil, Apricot Kernel Oil, Grapeseed Oil, Extracts of Arnica, Extracts of Calendula, Extracts of Comfrey, Extracts of Raspberry, Extracts of White Willow, Vitamin E, Citrus Essential Oils. Because of the shea butter, this lip balm provides some level of sun protection on its own but if you want more, than you can choose the one with SPF15.
Ingredients for ChopSaver Gold (SPF 15)
The ChopSaver Gold with SPF15 contains the same natural ingredients but with added active ingredients of 7.2% Octinoxate and 4.3% Oxybenzone. In terms of moisturizing factor, I find it the same as the original.  And it might please some of you that both lip balms do not contain animal fats and are gluten free.
Availability and price
Those in Singapore will be happy to know that ChopSaver is available locally and now has an online store. The lip balms retail for S$8.90 each or S$17 for two tubes and shipping is free within Singapore.  You may like to know that you can trade in your current stick of lip balm to enjoy a discount of $2 – limited to one per purchase.  If you're outside Singapore, you can also easily purchase this lip balm by going through the stores on bizrate.
And nah, ChopSaver lip balms are not just for musicians.  It's for all the musicians in us! *wink*
Comments