DIY Beauty: mung bean anti-blemish face mask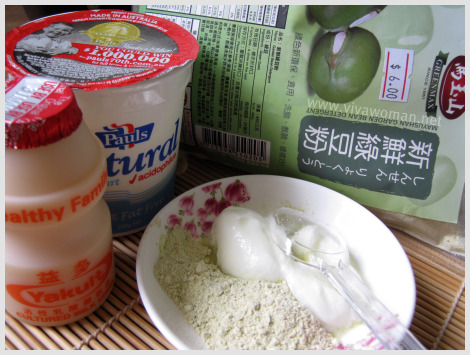 First, my apologies to those who have yet to receive the newsletter. There has been a frustrating technical glitch, which I'm trying to fix, and I will be re-broadcasting the newsletter to everyone again today. Please bear with me as I'm one person trying to do everything and I'm not exactly technical savvy. Now, moving along, I'm going to share a new DIY homemade recipe today that I've been using of late. The main ingredient is mung beans or green beans, also known as green grams in some places. I was lucky to chance upon readily available powder and I didn't have to take the trouble to grind the beans.
Great for acne-prone skin
I've tried using Ah Yuan Organic Mung bean & Job's tears Soap, but I've not thought about using the beans raw on my skin until I read Jacqueline Ambrose's entry on using mung bean paste as a body scrub.  Then I remembered reading that mung beans are great for acne-prone skin because of their detoxifying quality and ability to soothe irritation while supplying protein-rich moisture.  In fact, further research suggest that mung bean works better than vitamins C and E in improving the condition of pigmentation, freckles and ugly spots.  In India, apparently, the flour of the green gram is an excellent detergent and are used as a substitute for soap.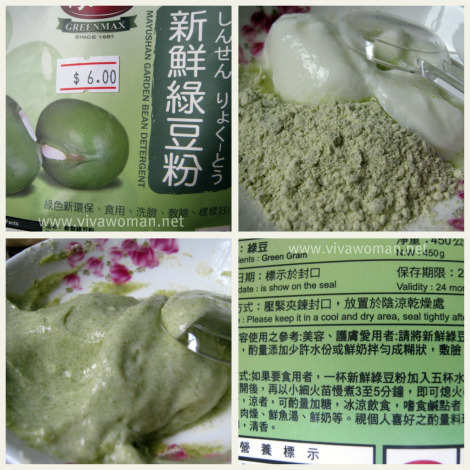 Easy recipe
I am pretty lazy so I was very pleased to find this packet of green gram detergent powder while shopping in Four Seasons Organic Market located on level 3 of City Square Outlet. It's only S$6 and can last me a long time as I only need to use one teaspoon each time. So what I do is to add one big teaspoon of this powder with about two teaspoons of yogurt. After mixing them into a thick paste, I apply it over my clean face and leave it on for about 30 minutes before rinsing off thoroughly and then moisturizing.
No mess
I like using this very much because unlike my cinnamon nutmeg acne mask, this one leaves no mess! Plus, I can use this on my entire face and there is no irritation whatsoever.  And if I like, this mask can even double up as a face scrub! There is a slight raw vegetable smell to the mask but it's not unpleasant.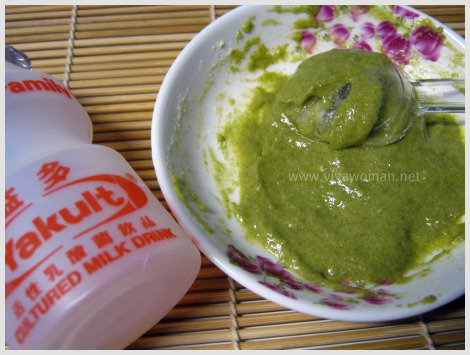 Mung bean powder with Yakult
Because of my acne issues, I used this every day and yesterday, when I was out, I was quite pleased to notice that my complexion seems to have improved. Although I wore foundation, but the acne scarring were less noticeable and my skin tone also seem fairer. I'm really hoping this DIY recipe can clear up all my blemishes, like this girl from Soompi forum I read about. What was interesting was that she used mung bean with Yakult and her acne cleared out completely after two months, based on the pictures she posted. I did try using with Yakult but I decided to stick to yogurt.
If you like to try this recipe and can't get hold of the mung bean powder, you can get the beans and grind them yourself. A little troublesome but they work the same.

Comments