DIY Beauty: 6 homemade acne busting recipes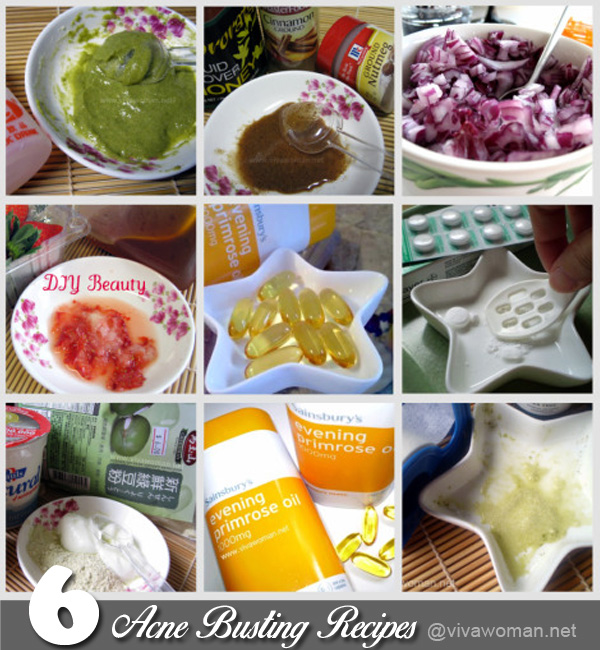 I've been going through some of my archives and realized that I've written a couple of DIY beauty recipes about combating acne. Some of the posts dated back to 2008 so I thought I'll put them together in one post. I've arranged them in the order of my favorites, with some explanation and you can click through the link to read more about each recipe and review.
Cinnamon & nutmeg acne mask (click for recipe)
This is my favorite and I've actually improvised further by adding tumeric powder. It's effective and works quite quickly to calm down and reduce acne marks. At one stage, I was using it every day. However, I'll say this is strong and does not suit all skin types. Both cinnamon and nutmeg can burn the skin and hence, not suitable for those with sensitive skin.
Mung bean anti-blemish face mask (click for recipe)
It was a little hard to put this in second place because this one leaves no mess and is therefore, easier to use. However, I've to concede that it doesn't work as quickly as the cinnamon and nutmeg mask. But this mask is definitely gentler and should not irritate most skin types that much although I did have some ladies reporting skin irritation due to the mungbean.
Evening primrose oil for acne (click for recipe)
Evening primrose oil is good to calm down acne almost overnight but it doesn't get rid of them. The advantages are that this is convenient to use and the oil can double up as a face oil.
Strawberry mask for the acne-prone (click for recipe)
While I've tried this, I didn't use it long enough to see much results. However, I had readers who tried and reported having their acne drying up faster after using the mask. So something to try out if you can resist popping the strawberries into your mouth. And it smells delicious for sure!
Aspirin and green tea for acne spots (click for recipe)
Okay, this one is good to draw out stubborn headless pimples but you have to be very careful with this recipe as once drawn out, the pimple can pop really easily. I think this is good when used in conjunction with the Nexcare Acne Patch as the latter can suck up the pus effortlessly.
Onion mask for a bad breakout (click for recipe)
I didn't try this but was given this recipe by Jess, who used it to nurse her bad breakout. Be very careful to chill the mixture overnight though as your eyes can get hurt by the onion fumes if you don't.
As always, do exercise caution with all recipes as some have reported allergies even with the gentlest ingredients. If your skin is sensitive, your best bet is to do a patch test prior to usage or use it on your jawline first to see if you develop any reactions. In addition, don't expect miracles using these recipes. As with all homemade beauty recipes, patience is a virtue. And if your acne is mild, just use tea tree essential oil or emu oil. They're quite effective in controlling the annoying red spots too.
Comments