Handmade body treats from Orgo Cosmetics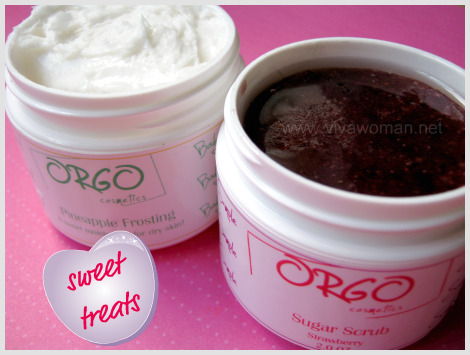 I have a weak spot for handmade bath and body products. There is that wholesome, natural appeal about them that I like and their ingredient lists are often simple and easy to understand. In addition, they often look and smell delicious – just like these two products that were sent to me, courtesy from Orgo Cosmetics, a bath and body care company based in Portland, Maine, USA. In fact, I thought the Strawberry Sugar Scrub resembles the strawberry jam I spread on my bread every morning! And it's no wonder because it's actually made with real, organic strawberries that have been pureed and whipped together with organic cane sugar and luscious oils!
Strawberry Sugar Scrub 10 oz US$14
I really like this Strawberry Sugar Scrub because it feels wonderful as a scrub without being too abrasive and it doubles up as a body oil as it leaves the skin well moisturized with its load of nourishing coconut and olive oils.  My skin felt very soft after using this scrub and not overly oily. Most important of all, I don't need to moisturize my body again and it's great for lazy people like me! The sample I received is 2 oz, which will provide me with 4 – 5 times of usage, but the 10 oz should last quite a bit.  Besides strawberry, the other available selections are oatmeal & honey, coconut, avocado & bergamot and banana.
Pineapple Frosting Body Whip 2 oz US$10
The other product I tried from Orgo Cosmetics was their Pinapple Frosting Body Whip. Because organic extra virgin coconut oil was used as a base in the formula, this creamy body whip works well as a luscious moisturizer for the skin, without being greasy. But the combination of coconut oil and pineapple flavor is too strong and made me smell like a walking pineapple tart all day long! Perhaps the other flavors like the Blueberry, Black Cherry or Vanilla Bean will do better for me.  But anyway, the 2 oz is going to last quite awhile because I only use a little bit each time.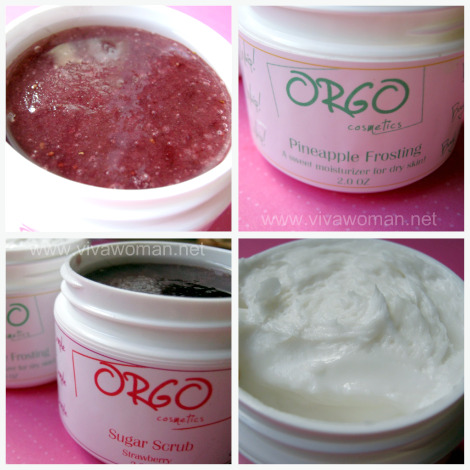 Natural, organic formula that are vegan friendly
Other products from Orgo Cosmetics consist of body lotions, shower creams and bath melts. Everything is made by hand in small batches, with many vegan friendly formulas using a combination of  natural and organic ingredients. All of their products are made without parabens, but they do include less than 1% of Germall Plus, a chemical preservative, and 1 – 2% synthetic fragrance oils.
Ships internationally
Orgo Cosmetics ships internationally and you can find out more about the company and their products at their website but meanwhile, you may also like to participate in my March VivaBella Giveaway for a chance to win their Avocado & Bergamot Sugar Scrub and Pineapple Frosting Body Whip.
Comments