How to boost your sun protection from within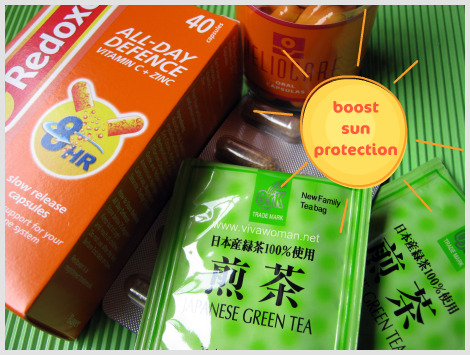 Last week, I mentioned that I'll share some tips on how to up the ante on your sun protection from within. Most of us use sunscreen but are not using enough, or are not reapplying as required. Hence, it's a good idea to boost our sun protection orally, primarily through antioxidant and nutrient rich foods to increase the body's ability to protect itself from the sun. Here are five key ones that are supported by medical research and studies.
1. Heliocare
I've been taking Heliocare to boost my sun protection internally for close to a year now. The product contains three natural ingredients – beta-carotene, green tea and a natural fern extract – to reduce free radicals and increase our skin's resistance against sunburn, amongst other benefits.  I don't take this daily, but rather on days when I know I'll be out for longer periods under the sun. It has worked very well for me and my husband, an avid runner and swimmer in terms of preventing sunburn and sun damage.
2. Vitamin C & E supplements
Those of you who are uncomfortable with the idea of taking oral capsules like Heliocare for internal sun protection would be happy to know that taking antioxidants like vitamins C and E can also inhibit photodamage. According to New York-based dermatologist Karen E. Burke, MD, consuming 500 to 1000 milligrams of vitamin C per day and 400 milligrams vitamin E per day has been noted to reduce photodamage, wrinkles and improve skin texture.  Additionally, Dr Burke indicated that consuming 50 to 200 micrograms of selenium has also been shown to offer protection from the damaging rays of the sun (source).
3. Fish oil and flaxseed oil
Research studies show that EPA, a kind of omega-3 fatty acid, helps prolong the time that it takes skin to get burnt during sun exposure, and also helps reduce the risk of skin cancer. Hence, omega-3 fatty acids have an important role to play in reducing the damaging effects of sunburn and protect the skin from the inflammatory response caused after sun exposure.  In one clinical study, 13 people with sun sensitivity known as photo dermatitis showed less sensitivity to UV rays after taking fish oil supplements Omega-3 fatty acids (source).  Omega-3 fatty acids can also be found in fish, such as salmon, tuna, and halibut, other seafood including algae and krill, some plants, and nut oils.
4.  Green tea
If you're drinking as many as 10 cups of green tea on a daily basis, you are already already providing your body with some ability to reduce the damage caused by ultraviolet rays through the polyphenols from the tea. Better still if you also apply green tea topically to your skin to prevent more sun damage (source).
5. Tomatoes and watermelon
I've also written that eating  foods rich in lycopene such as tomatoes, tomato paste and watermelon can have a protective effect from the sun due to their lycopene, which is excellent for the skin and acts like an internal sunscreen by increasing its ability to fight damaging radiation. Other sources of food rich in lycopene include red bell pepper, pink grapefruits, papaya, apricots and pink guavas.
Consume in moderation
Besides these five groups I've shared, antioxidants in olive oil, cranberries, blueberries, pomegranates, salmon or sunflower seeds are also known to extinguish free radicals and can act as powerful UV protectors.  However, do note that you need to exercise moderation in terms of consuming these.   Don't go crazy and try to down them all as doing so may create adverse health problems.  Personally, I take Heliocare, drink green tea and eat some of these fruits mentioned regularly.
Protection from inside out
In addition, these are not meant to replace the usage of sunscreen. You still need to protect your skin by actively using sunscreen every day.  But these are added measures you can take to protect your skin from within. And for those who are allergic to sunscreen, these tips may be useful to help offer you some level of protection against the UV rays.
Comments