Hand creams in aluminium or plastic tubes?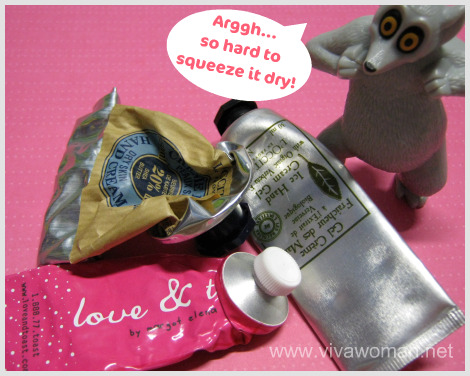 I used to hate toothpaste. More precisely, I hate squeezing my metal tube toothpaste. They are nice tubes to look at when they are brand new but once you start squeezing them, they start to collapse and get really ugly. The worst is, it's hard to squeeze out all the toothpaste! And, the screw tops don't make them that user friendly too. I'm so glad that the packaging of toothpaste has improved. Instead of hard metal, the tubes are made in aluminium-plastic or in plastic and don't collapse into an ugly lump. Plus, no more screw tops! But it's still hard to get everything out of the tube unless you cut it up – and I don't!
This is why I wish some of my favorite hand creams will change their tubes. Instead of aluminium tubes that's really hard to squeeze especially when the product is at the end of their lifespan, consider a plastic tube. At least I won't feel so shy about whipping the ugly tube out of my bag after awhile and when the tube is at the end of its lifespan, I don't have to hurt my fingers so much by trying to squeeze so hard as I can cut it up easily if I wish.
Are there particular benefits in using aluminium tubes over non-aluminium ones? I understand that it is non-porous, light in weight, sanitary, durable, easy to handle, and has a long shelf life but wouldn't plastic tubes suffice as well? The ingredients aren't as potent as a face care product since it's basically for moisturizing and soothing the hands and hence, I'm fine with plastic material.
So do you like your hand creams in aluminium tubes or you prefer them in other packaging material? Share your thoughts.
Comments