Battle of 4 SLS and fluoride-free natural toothpastes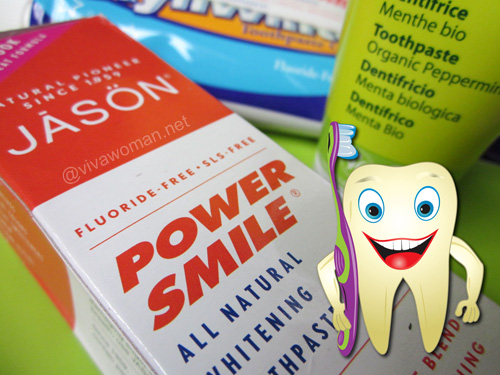 Appalled by the tubes of toothpastes lying around these days, my hubby asked me "why in the world do you need to use so many of them?" Well, the answer is I don't need to but I just want to. Heh. Yes, I've gone quite mad over toothpastes all of a sudden after I wrote about herbal toothpastes last month and decided to take on the recommendations given by some of you seriously. So I went out to buy myself not one, but four natural toothpastes which are all SLS and fluoride-free.
Fluoride-free to prevent enamel fluorosis in kids
Actually the real reason why I decided to switch to using natural toothpaste is for the sake of my son. I figured out that while fluoride wasn't doing any harm for my husband and I (at least not that I know of), I'm not too sure of my son because I noticed that he's having this discoloration that does not seem to be due to improper brushing. I wasn't sure if that's a case of enamel fluorosis due to too much fluoride but I wasn't quite prepared to take the risk with him.
Review of 4 natural, SLS & fluoride-free toothpastes
So after going through some of your recommendations, I went on a SLS & fluoride-free toothpastes hunt. In the end, I bought four – one of them from Bud Cosmetics, and the rest from iherb.com – all because I wasn't sure what's best and I figured it's no harm just trying a few since changing toothpaste every day isn't going to hurt my teeth anyhow. So here's my quick review of them, after trying them out for about two weeks now and I've listed them by preference – from the least to the most favorite.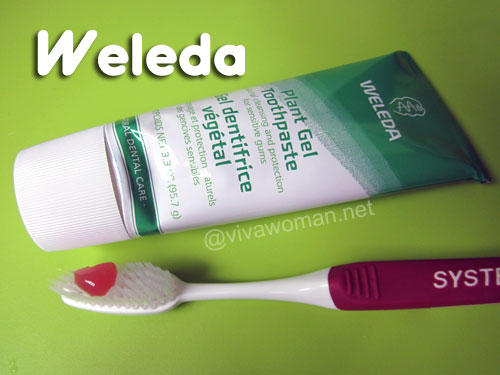 Weleda, Plant Gel Toothpaste, 3.3oz US$5.38 from iherb.com
Ingredients: Glycerin, water (aqua), hydrated silica, chamomilla recutita (matricaria) flower extract, krameria triandra (ratanhia) root extract, commiphora myrrha (myrrh) extract, mentha viridis (spearmint) leaf oil, mentha piperita (peppermint) oil, foeniculum vulgare (fennel) oil, algin, alcohol, esculin, limonene*. *From Natural Essential Oils
This plant gel toothpaste is said to work because of the natural silica. According to description, the unique combination of plant extracts helps balance the normal functions of the mouth, maintaining the natural flora. It's gel-like in texture and comes in a dark pink shade; my mouth does feel refreshed using this and in terms of taste, this is the best of the lot with a mix of slightly sweet but minty freshness. Well, I'm not liking this one very much because it hardly foams and I find myself having to squeeze a lot of the toothpaste just to be sure. In addition, this one contains alcohol although the amount shouldn't be high since it's listed almost at the bottom.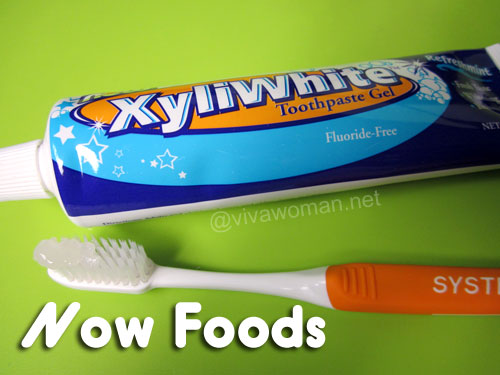 XyliWhite Toothpaste Gel, 6.4oz US$3.81 from iherb.com
Functional Ingredients: Xylitol (25%), papain (whitening)
Ingredients: Water, xylitol (25%), hydrated silica, glycerin, sorbitol, sodium bicarbonate, sodium carbonate, sodium coco-sulfate, carrageenan (chondrus crispus), tea tree (melaleuca alternifolia) leaf oil, peppermint (mentha piperita) oil, spearmint (mentha viridis) oil, papain, potassium sorbate. Gluten free.
I was attracted to this one because of the number of positive reviews at iherb.com as many customers found this good for tooth whitening. This is a product from Now Foods and uses all-natural Xylitol as its main ingredient, which is not available in the other toothpastes in this review. I've not used this long enough to tell if there's any whitening but it does keep my mouth fresh because of relevant ingredients. This toothpaste gel comes with a plain minty taste and while it foams better than the Weleda Plant Gel Toothpaste, I wish it can do better.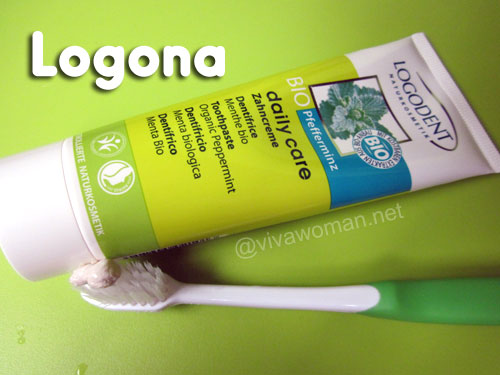 Logona Daily Care Toothpaste, 2.5oz S$9 from Bud Cosmetics
Ingredients: Aqua (Water), Calcium Carbonate, Glycerin, Silica, Sodium Lauryl Sulfoacetate, Maris Sal (Sea Salt), Xylitol, Chondrus Crispus (Carrageenan), Chamomilla Recutita (Matricaria) Flower Extract*, Xanthan Gum, Algin, Mentha Piperita (Peppermint) Oil*, Aroma (Flavor), Limonene
I find this most suitable for my son because it's a gentle foaming toothpaste that keeps the breath smelling fresh. Like the XyliWhite Toothpaste Gel, this comes with a plain minty taste and because it contains calcium carbonate, so its chalk-like consistency also gives me better peace of mind in terms of cleansing prowess.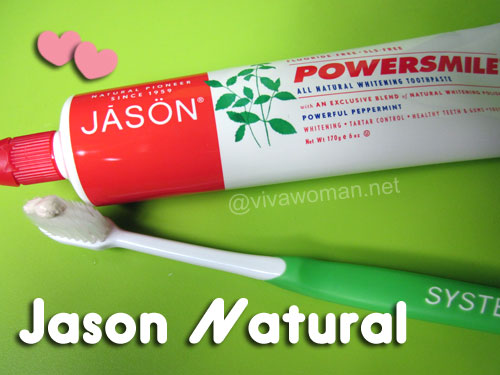 Jason Natural, Powersmile, 6oz US$4.71 from iherb.com
Calcium carbonate, aqua (water), glycerin, sodium cocoyl glutamate, mentha piperita (peppermint) oil, carrageenan, aloe barbadensis leaf gel*, bambusa arundinacea stem powder, carum petroselinum (parsley) extract, citrus grandis (grapefruit) seed extract, perilla ocymoides seed extract, stevia rebaudiana extract, silica, sodium bicarbonate. *Certified Organic Ingredient
This is my favorite of the lot. In fact, I'm pretty impressed as I find its performance above the normal Colgate toothpaste I was using and this can be attributed to the exclusive blend of natural polishers and stain-fighting botanicals, including bamboo powder, calcium carbonate, sodium bicarbonate and silica. And because it's quite potent, I don't need to use that much of the paste compared to the others or I'll get a rather bitter minty aftertaste. I was concerned that my son might find this too strong for his taste but turned out, he is okay using this.

Overall summary
It's a bit hard to tell if these toothpastes are providing effective whitening properties but at the least, I do not see any discoloration. My boy's teeth seem to be looking better but it might also have to do with his recent dental polishing. But of the lot, I will most likely continue to use the Jason Natural, Powersmile. It's the best of the four I've tried and going by the usage and quantity, the price is reasonable if you were to get it direct from iherb.com (it's expensive if you purchase it from the retailers in Singapore). I reckon that between my son and me, this tube can last us for around two months or so?

Comments