Retouching to keep hair color looking fresh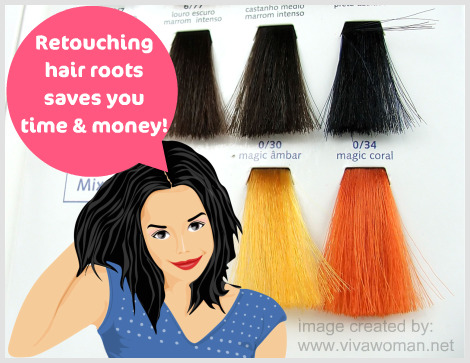 It's hard being a woman. There's always some excuse to spend more money. Just take our hair for example. Besides keeping it healthy looking, you have to maintain your hairstyle as well. And if you've got some gray hair like me, then there's another set of issue. This is one of the reasons I color my hair. The other reason is to add some dimension to my flat and straight hair.
Saves time and money
I used to color my hair on average about twice a year. That usually cost me around S$150 – S$200 each time to have both highlights and lowlights done at the salon. However, as I grow older, I realized the frequency needs to be increased due to the amount of gray hair showing. Then sometime last year, one of the colorists I met mentioned that she only colors the roots to cover her gray hair and I thought that sounds like something I should attempt. But it was only this week that I finally did it and it turned out well. They call it retouching the roots and it cost me S$38 at a neighborhood salon. I had my hair highlighted at the same shop sometime in January and it's been three months, meaning that I have over two inches of new growth since. The recommendation is that I should retouch every four to eight weeks so I was initially worried that it would turned out uneven but my worries were really unfounded.
Hair color becomes more uniform
I learnt that unlike highlights and lowlights, retouching the roots of our hair really mean coloring all the roots. So the color is more uniform. It's a good way to hide the grays definitely and also a good way to save time and money. It took me less than two hours and if I were to do this every quarter, it'll only cost me about S$150 for the year vs S$300 – S$400 for two times of highlights. But the hair would look less interesting in the long run unless you don't mind the uniform hair color. Personally, I would like my hair to look more interesting and so I would still prefer to have a highlight done and going by this, I can probably still do it once a year and retouch maybe two to three times in a year? That'll definitely save me some bucks although I think I'll be subjecting my hair to more chemical onslaughts.
DIY approach
Anyway, I'm happy to have found a solution to keep my hair color looking fresh for a longer period. If I have more guts, I can actually dye the roots myself and save even more. All I need is to make sure that I use the same color each time. But given my self-doubt, I'll stick to going to the hair salon for now.
Comments