Should we tip for beauty services?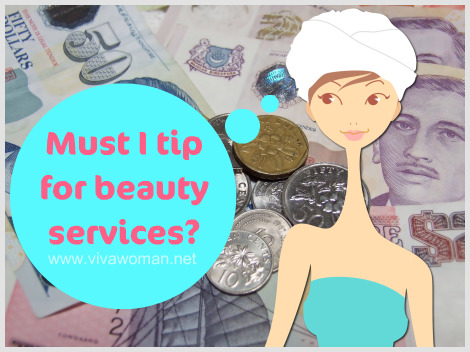 During a catch up session with a friend this week, our conversation veered round to the topic of salon tipping. It was a brief mention but it got me thiinking: are we expected to tip for our beauty services in Singapore? I know tipping is a culture in some countries but it's not widely embraced here.
I don't tip as I've never thought it as a necessity. The only thing I do is to give out ang pow to my regular facial therapist and even then, I only give if I truly like the person and her service. And as far as I know, some of these service staff working in the beauty industries are paid bonuses for the number of massages or facials they perform, on top of commissions for products their clients purchased through them. In addition, I feel that a therapist that pushes her customers to sign on packages should not expect further tipping especially if the customer was forced to take on the package grudgingly. In this case, why should I part with more of my money, even if it's just small change?
So tell me – do you tip when you receive services at the nail palor, the beauty spa or the hair salon? Do you think we should be tipping? And if you're outside of Singapore, is tipping for receiving beauty services a part of your culture?
Comments