Viva Challenge: shower in cold water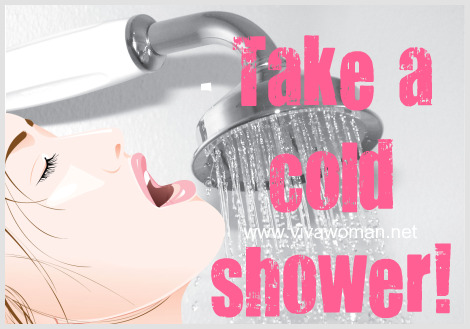 It's Earth Week and I'll like to partake by issuing a simple challenge and that is to bathe in cold water! While beauty is very much a personal affair but through some concerted effort, we can also do our part to save the earth. Maybe the challenge is not so simple especially if the weather over at your end does not permit but the idea is to reduce global warming by using less hot and warm water. So depending on where you are, you can either try to reduce the temperature of the water you usually bathe in, or to bathe in completely cold water. And you know what? Bathing in cold water has both health and beauty benefits! In fact, some people practice what is known as the cold shower therapy.
Increase blood circulation
So what are the benefits of bathing in cold water? Amongst other things, it will help bring blood to the capillaries and increase circulation throughout the body. It is also said to reduce blood pressure on internal organs, provide flushing for the organs and a new supply of blood, contract the muscles to eliminate toxins and poisonous wastes as well as strengthen the mucous membranes, which help resist hay fever, allergies, colds, coughs. (source: earth clinic)
Beauty benefits of cold water for the face and hair
I've also written that washing our face in cold water can help to make blood vessels constrict and may even aid to reduce swelling and appearance of undereye dark circles. But the water shouldn't be too cold as that can cause broken capillaries instead. In addition, if you're removing makeup, it is recommended that you use warm water to remove the oil and sebum. You may also like to know that using cold water as a final rinse for our hair can help close the scales of the cuticle, and can help constrict the openings of the sebaceous glands to help moderate sebum production.
Do you part to reduce global warming
So are you ready to take on this challenge? It is impossible to bathe in the cold during the mornings but I've started bathing in cold water during the evenings. It needs some getting used to but what you can do is to start out with warm water and turn off the heater midway. I will try to use cold water whenever I can but for this challenge, I ask you to try to do this during this week or at least on April 22 which is Earth Day. But do note that this challenge is not suitable for you if you're having your menstruation as you should stick to using lukewarm water to bathe so as not to stress your reproductive system.
Comments