Review: The Body Shop Earth Lovers Shower Gels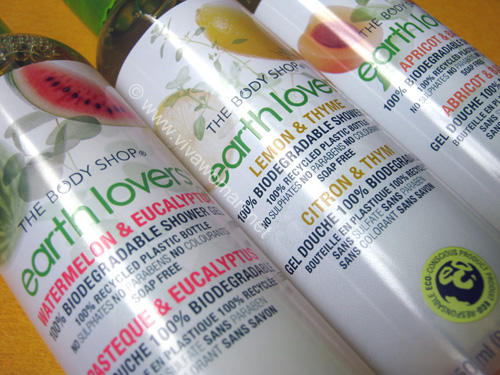 All right, since Earth Day just passed, I thought I'll review the Earth Lovers Shower Gels from The Body Shop. There was an in-store promotion of 'buy 2 get 1 free' and I took advantage of that to stock up on three of them you see here – Watermelon & Eucalyptus, Apricot & Basil, plus Lemon & Thyme – after spending some time sniffing at all the six available scents.
100% biodegradable
It's been eons since I actually purchased something from The Body Shop and this range of shower gels attracted me because it's described as 100% biodegradable and are sulphate, paraben and colourant-free. Plus I love scented shower gels because I believe showering should be filled with sensory awakening marked by uplifting scents. But I would say my preference is for more natural scents from essential oils but once in awhile, I don't mind straying and using those with floral or fruity scent.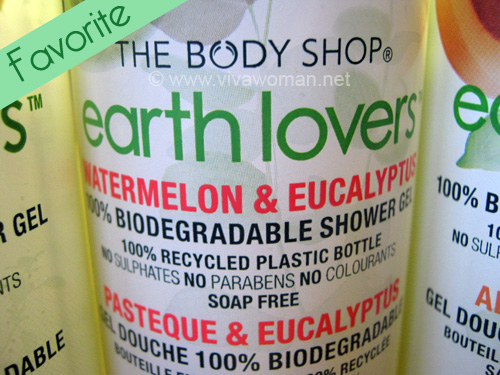 Watermelon & Eucalyptus scented is the best seller
Of the three, my favorite is this, which is said to contain real watermelon and eucalyptus extracts. I'm not very fond of watermelon and this didn't appealed to me when I sniffed it at the store. In fact, I didn't consider getting it initially but I did eventually picked it because it's a best seller and they were down to the last bottle then. So I was curious and wanted to give it a try and am glad I did so. I can't quite describe the smell but the watermelon scent is rather faint to me but it sure makes for a refreshing shower! Apricot & Basil comes across too sweet and fruity to me, while Lemon & Thyme doesn't smell lemony at all and I'm not too sure I like the scent much.
Foams and cleans well
All three of the shower gels look the same in terms of the color and they all foam rather well, and there was no issue about washing away any grime and grease on the body. And even though they cleanse my skin well, they did not leave my skin feeling dry but I did need to moisturize after my shower as this is not the type of moisturizing shower gels. The fruity scent, while a delight, can be too overpowering too. For example, I had thought I would like the one with Apricot & Basil but turned out, it was a bit too sweet for my nose and the strong smell even lingered on in the bathroom after shower!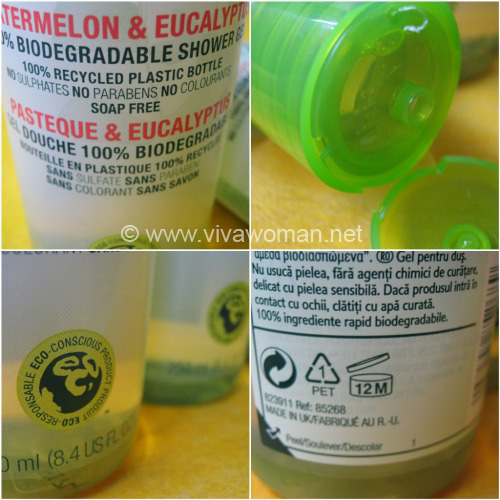 Ingredients
I've just taken the ingredient list of the one with Watermelon & Eucalyptus as all three are about the same; the difference is in the extracts used.
Ingredients: Aqua (Solvent/Diluent), Sodium Lauroyl Methyl Isethionate (Surfactant – Cleansing Agent), Cocamidopropyl Betaine (Surfactant), Sodium Chloride (Viscosity Modifier), Glycerin (Humectant), Parfum (Fragrance), Sodium Benzoate (Preservative), Citric Acid (pH Adjuster), Trisodium Ethylenediamine Disuccinate (Chelating Agent), Zinc Laurate (Anticaking Agent), Salicylic Acid (Preservative/Hair Conditioner), Linalool (Fragrance Ingredient), Butylene Glycol (Humectant), Aloe Barbadensis Leaf Juice (Skin Conditioning Agent), Eucalyptus Globulus Leaf Extract (Skin-Conditioning Agent), Sodium Hydroxide (pH Adjuster), Citrullus Lanatus Fruit Extract (Natural Additive).
As you can see, although these are sulphate, paraben and colourant-free, they do contain quite a bit of synthetics. Fragrance, for example, is included for those scented ones. But the good news is that those who are sensitive to fragrance have the option of choosing the Earth Lovers Unfragranced Shower Gel.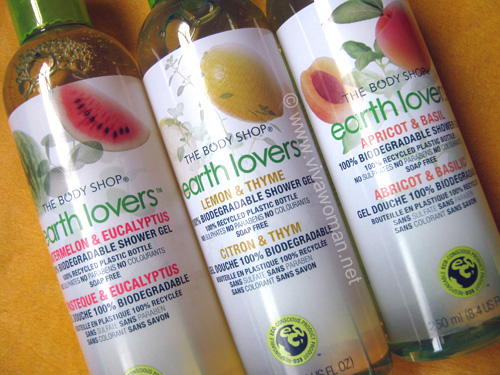 Overall summary
Each bottle of The Body Shop Earth Lovers Shower Gel cost S$14.90. I got all three for S$29.80 during the promotion so that's pretty good value for money. I also like that these are eco-friendly as they're made to be 100% biodegradable. Those who like fruity type of shower gels that foams pretty well and are not so particular that ingredients need to be very natural will probably like this range. Other than these three reviewed here and the unfragranced that I've highlighted, the other three scents are Cucumber & Mint, Fig & Rosemary, and Pear & Lemongrass. Personally, I don't mind repurchasing the Watermelon & Eucalyptus scented one again.
Comments