What do you do with free cosmetic pouches?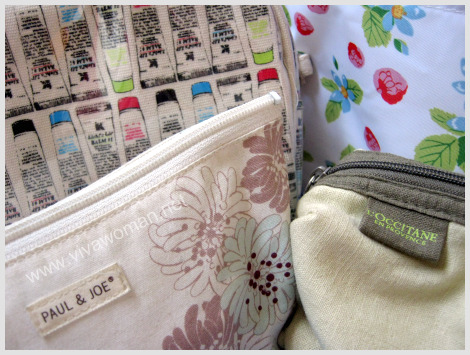 I'm usually in a rush during the mornings but find that I need to get my cosmetics better organized in a pouch so that I can get everything achieved in the bathroom. However, I realized that my current pouch is really too small to contain everything I have and I need to get myself another one. Then it dawned on me that I should use one of those free cosmetic pouches obtained during product purchase but when I try to locate them, I discovered I'm left with limited choices because I've thrown away many of the free ones.
For some strange reasons, I never like to use the free cosmetic pouches. Like I indicated, I used to bin them because they were taking up storage space and I had no use for them. Somehow, I never found free cosmetic pouches very appealing and I actually preferred to purchase my cosmetic pouches as the designs are prettier. But if I were to analyze further, I think I'm just resistant to using something that bears a logo. I would hate to whip them out of my bag in public! I like those with more subtle designs, like having their logos hidden inside the bag. Of course, these are few and hard to come by!
So what do you do with free cosmetic pouches? Do you collect them or do you bin them? Any favorites so far?
Comments