What would you eat for beauty's sake?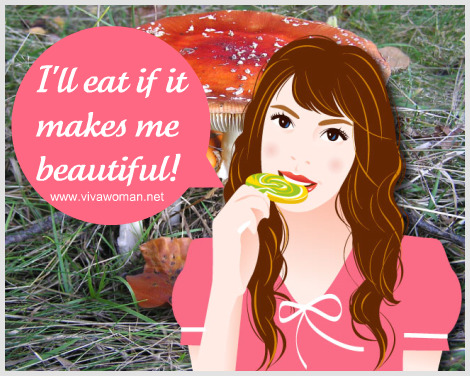 Asians, especially the Chinese, have a reputation for eating just about anything on earth. There is a famous Cantonese saying which states that "anything that walks, swims, crawls, or flies with its back to heaven is edible." So what strange things do we eat for beauty sake?  Here are five that I've come across.
Human placenta
Barbie Hsu or Da S once said she was keen on eating her sister's placenta to enhance her beauty. And she's not the only one. Cassandra See, a part-time local actress, was reported to have baked her own placentra to eat after giving birth and she claimed that eating that gave her a glowing complexion. There's even a term, placentophagy, to describe this practice because the placenta is apparently rich in minerals and vitamins, especially B6 and said to delay aging. Traditional Chinese Medicine experts claim the human placenta has been eaten by the Chinese for 2,500 years to improve lethargy, rejuvenating ageing skin and even promote breast milk production. (source) I learnt that you can get human placenta from China in a dried form from our local Chinese medical halls although I've not checked it out, and am not sure if it's really human placenta or just plant placenta or sheep placenta.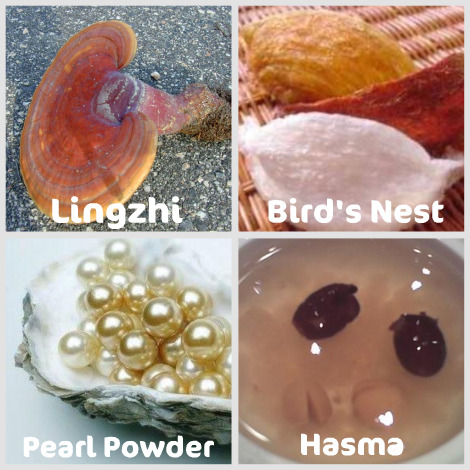 Chinese pearl powder
Pearl powder is a finely ground powder from real pearls and its use as a skin care cosmetics can be traced far back to over two thousand years ago. Because of its rarity and magic multifunctional properties in ancient China, pearl powder had been the most sought-after and expensive Chinese medicine but only affordable by royal families, high class officials or celebrities. Both oral administration and topical application of pearl powder will improve the skin nutrition and metabolism, promote the proliferation of healthy new cells, retain the water in epidermal layer, purge brown spots and other dark freckles in skin, thus reduce wrinkles and make the skin whiter, finer, smoother, softer and more radiant, delicate to rejuvenate the appearance of skin. (source)
Bird's nest
According to a medical research reported by Hong Kong Chinese University, the cell division enzyme and hormone of bird's nest can promote reproduction and rebirth of human cells. Edible bird's nest is the nest made purely of swiftlet's saliva secretion. This nest is usually found in caves near shoreline cliffs or under eaves of house and is hand-collected. Hairs and filth are then removed from the nest before manufacturing. Frequent consumption result in fairer skin, helps to stay young and look radiant. (source)
Dried fallopian tubes of frogs
Widely known as Hasma, and sometimes mistakenly thought to be frog's fat, this is usually cooked into a sweet soup dessert and said to improve skin's complexion when consumed frequently. (source)
Lingzhi or Reishi mushroom
Lingzhi retains and regulates water in the skin and helps maintain the skin's elasticity, keeping the skin hydrated and smooth. It also helps to inhibit the formation and deposit of melanin in skin. Today, Lingzhi beauty care products are becoming new stars in the cosmetic industry. By adding Lingzhi into the bath, not only can skin be kept smooth but it can also help prevent bacterial infections. (source)
What have I eaten?
Okay, apart from human placenta, I've tried all the rest and my personal favorites are bird's nest and dried fallopian tubes of the frogs. Reason being that they're tasty as desserts. As for improving the skin complexion, I do believe to a certain extent especially when it comes to consuming bird's nest. In fact, I deliberately took it when I was pregnant in the hope that I'll have a baby with beautiful complexion. Well, my boy has lovely skin but of course I can't say if it's entirely due to eating that.
So what would you eat for beauty's sake? Would you eat human placenta? And what other strange food have you come across that can contribute to one's beauty?
© www.vivawoman.net copyright notice ☺
______________________________________________________________
Comments