What's in a good anti-wrinkle face product?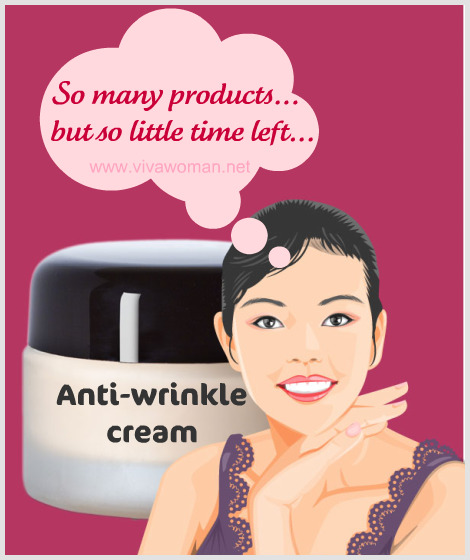 A friend who is concerned about increasing wrinkles appearing on her face asked me to suggest products she can use. She wanted to know specifically what to look out for when selecting such products. Actually, I've never really looked at anti-wrinkle creams specifically because many of the products in the markets today are formulated with some ingredients to arrest that problem, amongst others. I use a repair cream or an anti-aging oil so those products do help with my wrinkle issues. But anyway, I asked her to take a look at a link I posted on my Facebook page last week to Paula's Begoun's article on five things your anti-wrinkle cream must have.
The five things listed in the article were:
1. Antioxidants
2. Skin-identical ingredients
3. Cell-communicating ingredients
4. Sunscreen
5. A forumula that suits your skin type
What are skin-identical and cell-communicating ingredients?
Of the five, I was particularly intrigued with no. 2 and 3 as I've not come across those terms. But upon further reading, I realized that they're just fanciful jargons used by Paula. Skin-identical ingredients means ingredients that help keep our skin moisturized and hydrated without causing it to be inflammed or irritated. Examples cited by Paula included ceramides to lecithin, glycerin, fatty acids, polysaccharides, hyaluronic acid, sodium PCA, collagen, elastin, proteins, amino acids, cholesterol, and glycosaminoglycans. Cell-communicating ingredients are really ingredients that repair the skin cells and prevent cellular damage and these include niacinamide, retinol, synthetic peptides, lecithin, and adenosine triphosphate.
What about AHA?
AHA is quite a common ingredient found in anti wrinkle products but I've steered clear of products containing them because the ingredient can cause sun sensitivity.  AHA are really fruit acids that work by peeling off the outer layer of our skin and while our skin may glow and look radiant afterwards, usage long term may cause damage.  In fact, I read at this website focused on anti wrinkle cream that AHA seems to increase the number of cells that are damaged and can cause reddening, blistering and burning.  And the Food and Drug Administration has research suggesting that people who use AHA have a greater sensitivity to the sun's ultra violet rays while the European Commission is strongly considering limiting AHA's use via warning labels on the products.
What about wrinkles around the eyes?
This is perhaps the most difficult area to arrest in terms of wrinkles especially if you tend to smile and laugh a lot.   The other issue is that we don't find many eye creams containing sun protection.   You can use your anti-wrinkle facial product around your eyes provided it is not too heavy in texture but it's still not going to give you the sun protection.  I use my sunscreen around my eyes because it poses no problems for me. However, I know many are not keen on the idea perhaps because their sunscreen formula isn't suitable for application around the eyes.  So what's the best thing to do?  Well, an article on ways to prevent eye wrinkles suggested using hats.  I think the idea is to shield the eye from the sun and that's a good idea although it isn't foolproof of course.  In Singapore, we don't use hats although we really should.  So that leaves us with umbrellas or sunglasses.  For those that do not like using an external sun shield aid, then my suggestion is to take oral sun protection pills like Heliocare that can provide some level of sunscreen from within.
What type of texture should I look for?
I think it's most important to understand your skin type and what formula can work better for it.  My friend has dry skin and so I suggested she tries a cream formula that contains emollients to soothe the dryness.  For myself with combination skin, I can use oil but I can't do with thick creams that well.  So my best bet are lotions and serums with lightweight texture that do not clog my pores.
What type of packaging should I purchase an anti-wrinkle product in?
If the product is to contain antioxidants, then it's best that it be contained in a airless pump dispensing bottle instead of a jar.  Using a jar means you will expose the content to air and possible contamination and it might be less beneficial for your skin in the long run.  And maybe, that could be one of the reasons why some ladies complain that their products don't seem to work after awhile?
So have you come across any good anti-wrinkle cream either for the face or the eyes? Do share!
Comments