Can you make a U-turn after going natural?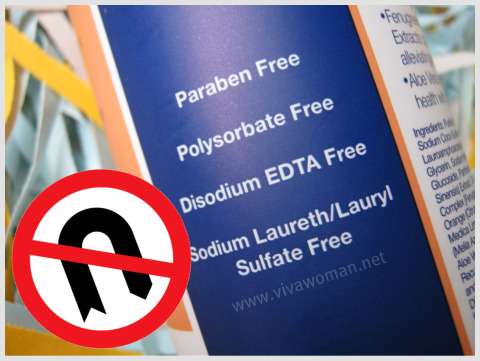 When I started using natural skin care products about two years ago, I was at a dilemma if I should go 100%.  Unlike many who use natural skin care products out of health reasons, I use them because I like the fact that they contain less synthetic ingredients which I believe will interfere with the efficacy of formulations.  However, I recognize that not all such skin care products are created equal and even those labelled as organic may not be 100% natural.  And even some of those that are 100% natural may not do much for our skin given that they contain no beneficial active ingredients.  Still, I've persisted on the natural route and haven't looked back since.  I admit that there are days when I want to veer off track and go back to using some of the non-natural products.  However, there is always a mental resistance and I've since found three reasons why I find it hard for me to make that U-turn back to using non-natural products.
Health hazard
Even though my initial motivation was not due to health reasons, I admit that as I read more about how some of those chemical ingredients can disrupt our hormones, I get affected. This is why I cannot go back to using commercial deodorants no matter how effective they work or how affordable they are.
Formulation potency
Natural products have shorter shelf life because they use little preservatives.  While it means I have to use up the product more quickly, it also means that the formula remains more potent as I get to use the products while it is made fresh off the batch.
Smell
I've become very sensitive  to the scent of my skin care products and prefer products to smell like herbs or essential oils. While some natural products don't smell good but I'll get accustomed to their scent after awhile. In fact, products with strong perfume fragrance irritate my sense of smell now.
The 80/20 product mix for me
As a whole, I'm less inclined to check out skin care products that are non-natural.  I may try out some of the cult brands provided I'm agreeable with the ingredients but it's usually a short term interest and I'll revert to my natural range quickly again.  I am more adventurous with makeup since they're layered over my skin care products but I do try to stick to using mineral makeup or organic makeup whenever I can. Currently, 80% of what I use on myself is natural and/or organic.  On my face, I use products from A'kin and Marie Veronique Organics now.  For my hair, I alternate between Burt's Bees Very Volumizing Shampoo and EO Clarifying Shampoo.  For my body, I use a combination of natural body lotions from Lavera, La Clarée Oliv' and Balance Me. As for the 20%, they are products like foot creams and makeup.
Share your natural skin care journey
I know a number of you are into natural and organic skin care like me. Can you share with me your journey to using natural skin care products and if you've ever done a U-turn back to using non-natural products? Or are you a consistent "full-fledge" natural or organic skin care lover? If not, do you use some non-natural products like me and do non-natural skin care products still get some of your interest?
Comments