DIY Beauty: 5 beauty uses with baking soda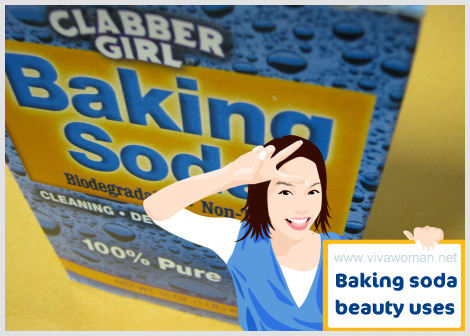 I've been rather busy and haven't been experimenting with new DIY beauty recipes. However, I'm still use some of my DIY concoctions. In fact, some of them are used daily. Today, I'll share the five ways I use my favorite ingredient – baking soda – in my beauty routine. Baking soda is a sodium bicarbonate, and can actually regulate pH balance, hence making it a great ingredient for our skin. The ingredient is easily found in supermarkets and a box that cost less than S$2 can last quite a long time!
1. Natural deodorant
I have been using baking soda more consistently as my deodorant since I ran out of my commercial deodorant. All I need is to mix a quarter teaspoon of baking soda with a quarter teaspoon of water. After mixing it into a watery paste, I pour the mixture into a cotton pad, apply on my underarms and voila, I am ready to go. Occasionally, I add some droplets of rose geranium and tea tree essential oil.
2. Natural facial exfoliant
Baking soda is quite a wonderful ingredient to use for exfoliating when moistened. All that is needed is some water to wet the baking soda into a paste and then to rub on the area you want to exfoliate. I used to use this for my nose area with lots of blackheads but occasionally, I'll add to my cleanser and use this as a scrub. It feels pretty gentle but it is very effective. However, I wouldn't recommend using this too often as baking soda is pretty abrasive. I only use this once a while on my entire face.
3. Natural body scrub
You can use baking soda as a body scrub or mix it with Epsom salt to give some relief to muscle aches. Definitely great to scrub those elbows and kneecaps. Keeps them smooth and clean.
4. Natural dry shampoo
Many have said they use baking soda to clarify their hair from residue build up by adding the ingredient into their shampoo. I've tried that but don't really like to use it in that manner but found that this ingredient can make quite an effective dry shampoo to clean out the oily residue. I had initially thought it might leave my hair stiff and sticky but on the contrary, my hair felt very smooth after applying this. I am considering using this to replace the Klorane dry shampoo I use.
5. Natural teeth whitener
If your teeth are yellow from drinking too much coffee and tea, you can use baking soda to whiten them naturally. In fact, this was how I got acquainted with baking soda. I usually add a small amount of baking soda on my usual toothpaste as the taste of baking soda alone can be quite unbearable.
Isn't baking soda great? Have you tried using it in any other ways for beauty sake? Do share!
Comments