Do women need to use a nose hair trimmer?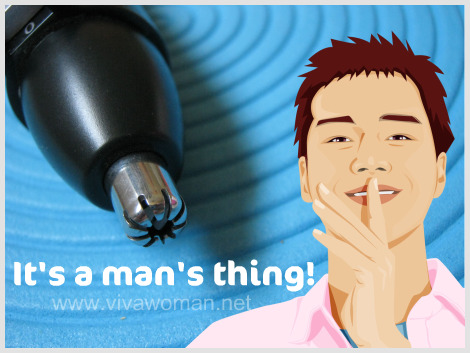 First, it was armpit hair and now, it's nose hair. I shouldn't be surprised if my readers start to think that I'm kind of hairy. But hairy I am not, just that I do have some hairy issues. Like once in a few months, I find myself having to trim my nose hair when it gets longer. I thought it was quite normal until I found out that nose hair trimmers are marketed toward men because they typically have more problems with overgrown nasal hair than women! And that's because nose hair growth is regulated by the female hormone estrogen. Since men produce significantly lower quantities of estrogen, their nose hair grows longer and coarser. *GASP* So what that does that mean for me?
Nose hair shouldn't be trimmed too clean
Nose hair serve to protect the delicate membranes of the inner nasal passage from dust, dirt, and debris. The hair also traps moisture and humidity to keep the delicate nasal membranes lubricated and healthy. So it's not a good idea to trim off our nose hair as that can damage the membranes, causing inflammation and enhancing cold or allergy symptoms. However, nose hair can grow longer and thicker and they're really unsightly when they start to stick out of the nostril! I remember getting nightmares after frequently seeing them on a male colleague! I don't know how his partner could tolerate his hairy nose really.
Nose trimmer more efficient than scissors
Back to my nose hair. Well, I don't have a big issue really. Just that once in a few months, I like to examine my nose closely and use a pair of scissors to trim off the ends so that they will never have a chance to see light! But I never even knew there's such a thing as a nose trimmer until my husband showed his to me. Apparently, he bought it from Watsons two years ago and use it occasionally. So for the fun of it, I tried it and you know what? I like it! It's very efficient in trimming off the long and untidy nose hair and it definitely works faster than scissors. I forsee that I won't have to check my nose for at least half a year!
So do you think it's odd for a woman to use a nose trimmer? Did you ever have to trim your nose hair? Or is it "NOSE HAIR? WHAT'S THAT?" for you?
Comments